Top 10 Bollywood Music Composers Who Forayed Into Direction
Posted On: 28 Jun 2021 | Last Updated : 25 Jun 2022 | Views : 430
They say when you are in Bollywood expect the unexpected. Truly Bollywood is a place full of surprises that now and then springs in a few unexpected ones which take time to fathom. We've seen actors turning directors, directors turning actors, actors turning producers and the list of transformations is endless. Directors turning music directors was never thought of or heard of in Bollywood. But there have been a few instances when music directors have wielded the megaphone and taken up film direction and done it quite commendably. Let's look at some of Bollywood's top music directors who forayed into direction or should we say music directors who turned into filmmakers by giving their counterparts a run for their money.
(Note: We have considered only famous Bollywood music directors who turned into directors and not directors who later turned into music composers like Sanjay Leela Bhansali, Dibakar Banerjee & Param Gill, etc.)
---
1. Vishal Bhardwaj (Makdee - 2002)
The multi-talented Vishal Bhardwaj also figures in the list of top 10 Hindi movie music composers who turned filmmakers in Bollywood. He is a composer, director, writer, producer, and playback singer who initially started off as a composer in 1987 for films like Wahem, Fauji, and Tunnu Ki Tina. He hit bigtime with Gulzar's Maachis in 1996 where his songs became famous. After giving music for over a dozen films including Betaabi, Chachi 420, Godmother, and Dil Pe Mat Le Yaar!!, he made his directorial debut with the Shabana Azmi starrer Makdee in 2002. Since then, he has composed as well as directed more than a dozen notable films including Maqbool, Omkara, Kaminey, Haider, and Rangoon.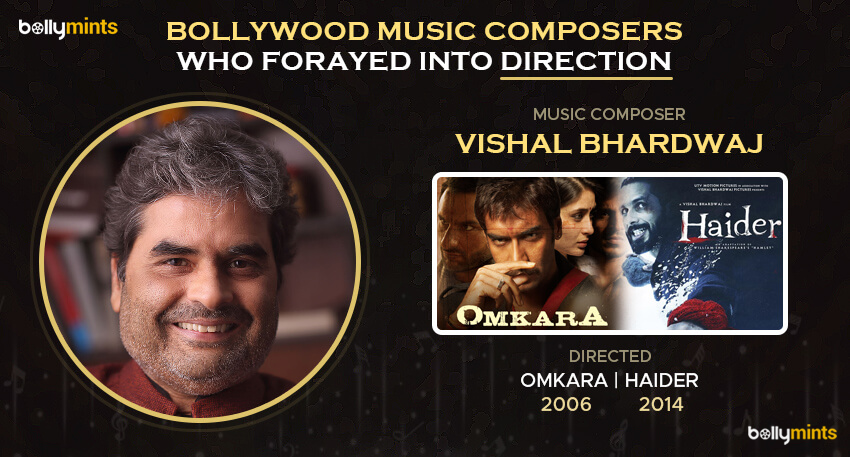 2. Kishore Kumar (Door Gagan Ki Chhaon Mein - 1964)
Legendary actor-singer-writer Kishore Kumar who was also one of the top 10 Bollywood music directors of his time had already done films like Shikari, Naukari, New Delhi, Bhagam Bhag, Aasha, Chalti Ka Naam Gaadi, and Dilli Ka Thug turned composer with Jhumroo in 1961 which starred himself and Madhubala. Kishore further proved his versatility by making his directorial debut with Door Gagan Ki Chhaon Mein in 1964 which starred himself and his son Amit Kumar while was produced under his home banner with music also by him. Some of the films that he composed as well as directed were Door Ka Raahi, Badhti Ka Naam Dadhi, Shabhash Daddy, Chalti Ka Naam Zindagi, and Mamata Ki Chhaon Mein.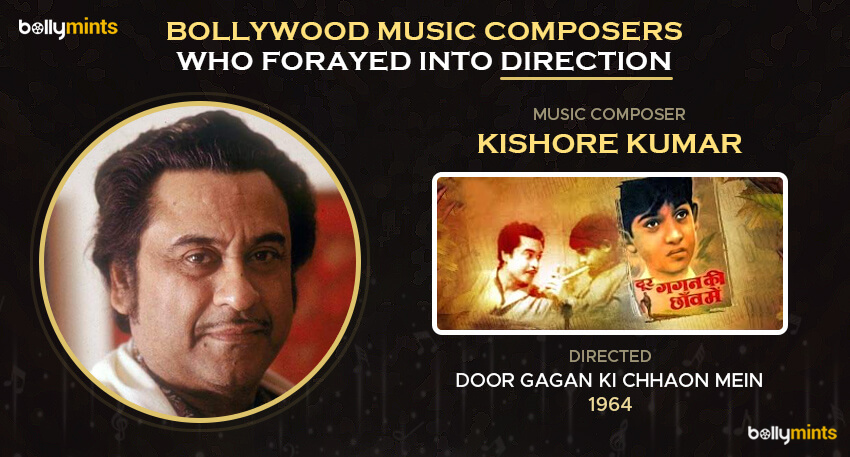 3. Ismail Darbar (Yeh Kaisa Tigdam - 2018)
Music director Ismail Darbar met with instant success with Sanjay Leela Bhansali's 1999 musical love-triangle Hum Dil De Chuke Sanam starring Salman Khan, Ajay Devgn and Aishwarya Rai. The songs of the film were chartbusters and added to the success of it. Ismail later also scored music for Devdas, Shakti: The Power, Deewangee, Kisna, Kaanchi and Bhoomi but none could match the success of Hum Dil De Chuke Sanam. He turned to direction with Yeh Kaisa Tigdam in 2018 which had Ashutosh Rana in a triple role that bombed badly at the box-office as no one knew about its release. Post the debacle of his directorial debut the composer has kept a low profile and appears on music reality shows on TV channels.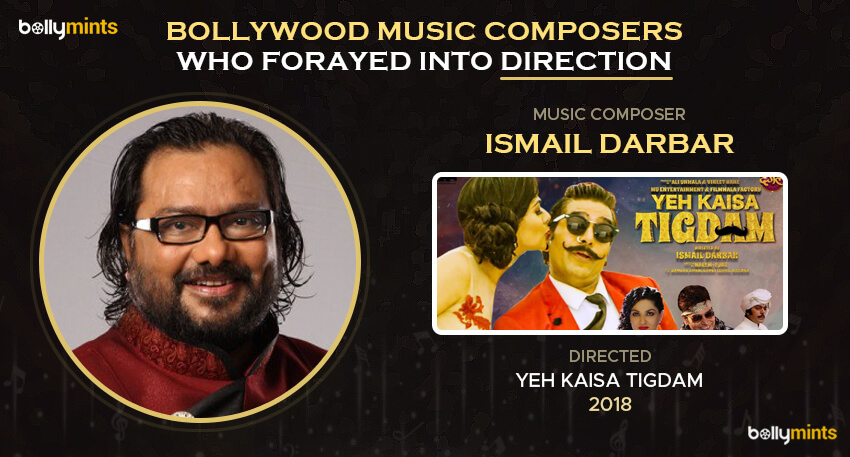 4. Soumik Sen (Gulaab Gang - 2014)
Soumik Sen had a rather decent start to his Bollywood career as a musician who started off by composing the song Mitti Ki Khushboo from Ru-Ba-Ru in 2008. He got lucky by marking his directorial debut in 2014 with the Madhuri Dixit – Juhi Chawla starrer Gulaab Gang for which he also composed the songs. He later went on to direct the Emraan Hashmi starrer Why Cheat India which released in 2019. He has also written movies like Anthony Kaun Hai?, Meerabai Not Out, Hum Tum Aur Ghost, and of course Gulaab Gang.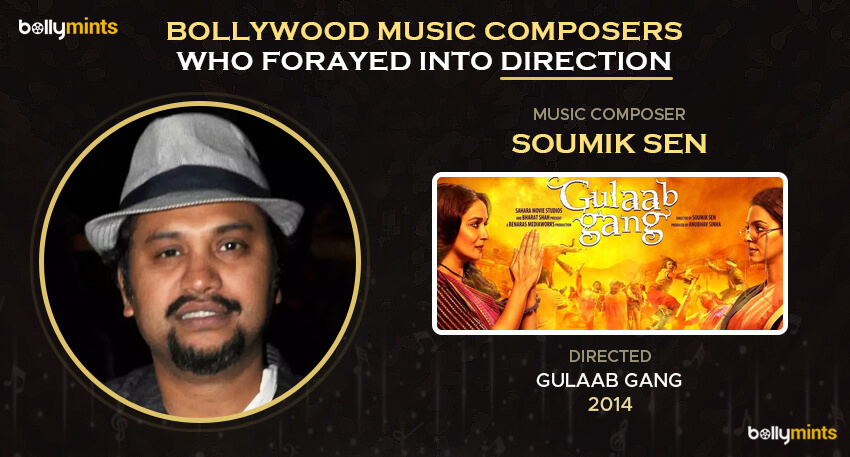 5. Satyajit Ray (Shatranj Ke Khilari - 1977)
Legendary director Satyajit Ray is a part of this elite club who not just was famous for directing classics but also composing songs for them. Though the iconic director made most of his films in Bengali he did happen to direct a solo film in Hindi which was Shatranj Ke Khilari that starred Sanjeev Kumar, Saeed Jaffery, Shabana Azmi and Amjad Khan. He also provided the music for the film which missed out on winning that year's Filmfare Award for Best Music but walked away with the Best Director trophy for the same.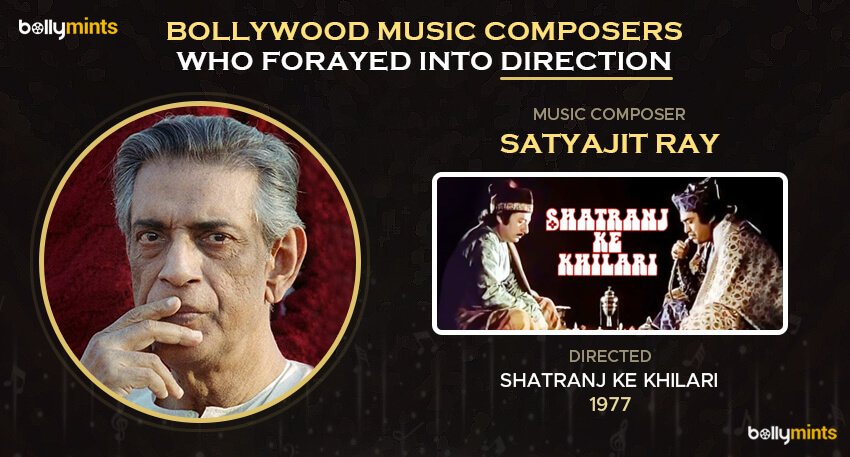 6. Salil Choudhury (Pinjre Ke Panchhi -1966)
Rated among the top 10 Bollywood music composers of the golden era, Salil Choudhury, the well-known legendary Bollywood music director who ruled the charts for over four decades from the early 50s to 90s in Bengali, as well as Hindi cinema, can never be forgotten. Salilda provided music for over 100 films some of which were Musafir, Madhumati, Kanoon, Maya, Half Ticket, Anand, Mere Apne, Rajnigandha, Chhoti Si Baat, etc. that had some timeless melodies. He turned director with Pinjre Ke Panchhi in 1966 which starred Balraj Sahni, Meena Kumari, Mehmood, Asit Sen and Abhi Bhattacharya. Of course, the music for the film was composed by him while the lyrics were by Gulzar and Shailendra.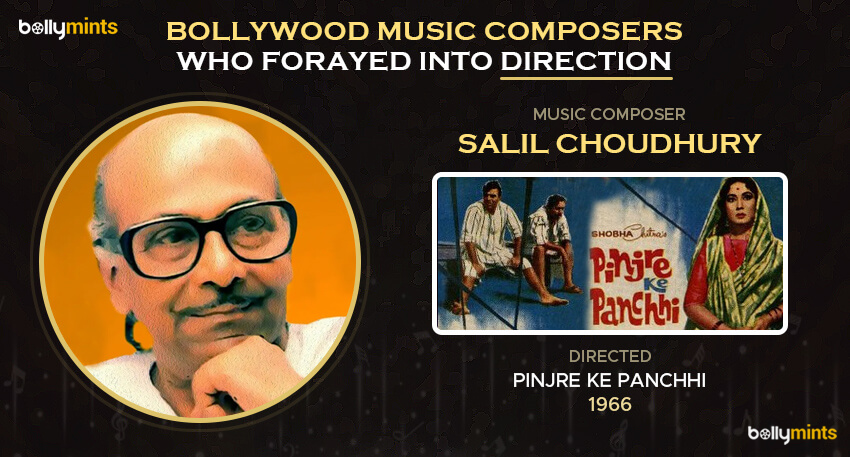 7. Vijay Singh (Dimple - 1975, Kabhie Ajnabi The - 1985)
Music composer Vijay Singh was another well-known name in Bollywood music who provided music for films like Khoon Khoon, Partner, Apmaan, Itni Jaldi Kya Hai and Ghar Aaya Mera Pardesi. Vijay Singh who was also a playback singer made his directorial debut in 1975 with the romantic musical drama Dimple starring Satish Kaul and Rita Bhaduri. The songs were catchy while the film met with moderate success and the box-office. His next directorial venture was Kabhie Ajnabi The, the Bollywood debut of cricket star Sandeep Patil who was basking in the glory after winning the 1983 Cricket World Cup. The film bombed badly getting him back to concentrating on scoring music for films only.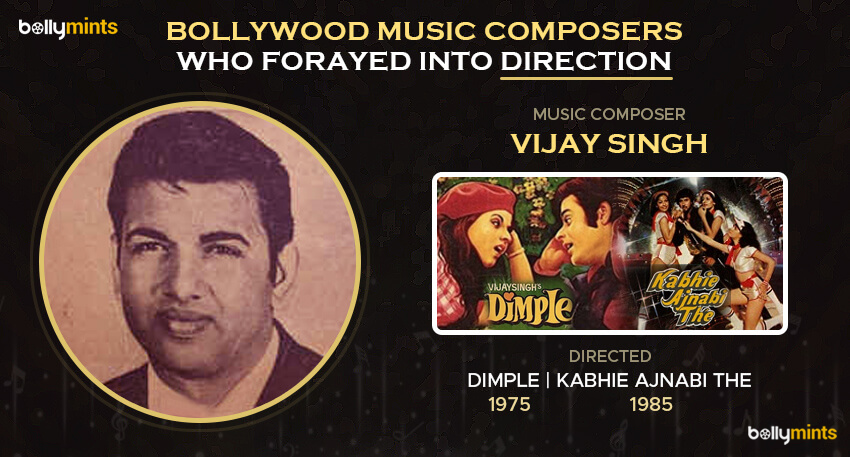 8. Ajit Singh (Chaalbaaz Leader - 1970)
The lesser-known talented music director Ajit Singh too qualifies to the list of Bollywood music directors who turned directors. Ajit who started off as a composer with Fakiron Ki Basti in 1962 and acted in films like Shamsheer in 1967 also eventually produced and directed the well-forgotten Chaalbaaz Leader in 1970 which bombed badly at the box-office due to lack of known stars and promotion. Ajit took a sabbatical and thereon stuck to composing for films like Purana Mandir, Tahkhana, Purani Haveli, Akarshan and Ajooba Kudrat Ka. His daughter Tanya Singh appeared as the female lead in Aaja Meri Jaan in 1993.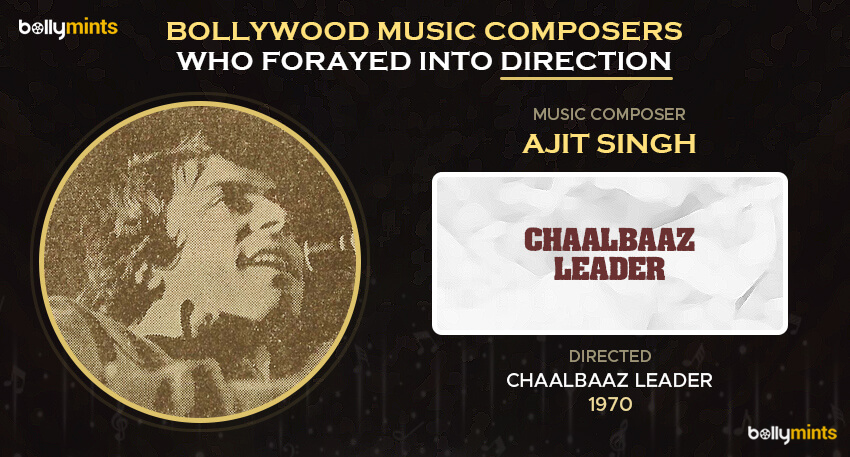 9. Jaddanbai (Talash-E-Haq - 1935)
Probably Bollywood's first female composer Jaddanbai who was also a writer, director and actress, was a known name in the 30s and 40s. Mother of actress Nargis, Jaddanbai who started off her Bollywood career as an actress and composer for Talash-E-Haq in 1935 turned director a year later in 1936 with Madam Fashion which she also wrote. In a career spanning over a decade, she wrote, acted, directed and composed for a handful of films including Hriday Manthan, Moti Ka Haar and Darogaji.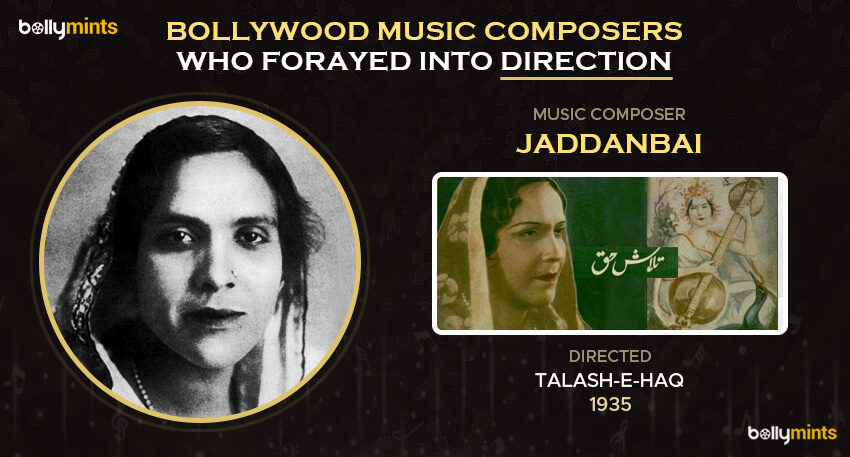 10. S. N. Tripathi (Ram Hanuman Yuddha - 1957)
Who can forget the versatile and multi-talented actor-composer-writer-director S.N. Tripathi? A veteran composer for over 100 mythological films from 1941 to 1987 including Chandan, Duniya Tumhari Hai, Veer Ghatotkach, Alibaba and 40 Thieves, Hatimtai, Zingaro, Veer Chhatrasal, etc. He made his acting debut way back in 1936 in the Ashok Kumar starrer Jeevan Naiya and went on to feature in more than 60 films. He made his directorial debut with Ram Hanuman Yuddha in 1957 and wielded the megaphone for nearly 18 films including Rani Rupmati, Kavi Kalidas, Shiv Parvati, Lav-Kush, Sati Sulochana, and Naag Champa.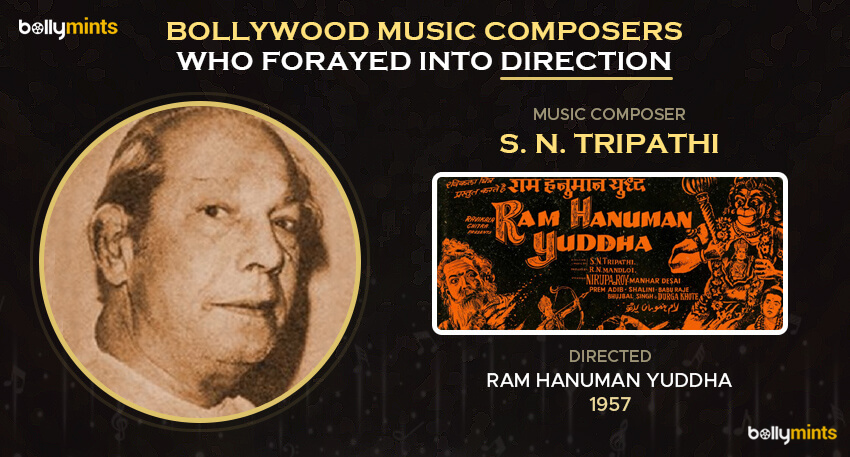 ---