Top 10 Highest Grossers Of 1997 Which Turn 25 In 2022
Posted On: 14 Jan 2022 | Last Updated : 03 Dec 2022 | Views : 306
The late 1990s is when Bollywood is mostly remembered for its romance driven high-budget movies. The success of the 1996 films like Raja Hindustani, Bandit Queen, Ghatak, Khiladiyon Ka Khiladi, etc., was followed by the year 1997 with much more successful and critically acclaimed films. The year 1997 also marks the debut year of famous actors Akshaye Khanna, Aishwarya Rai Bachchan and Mahima Chaudhry. It is also remembered for the super hit evergreen songs like 'Sandese Aate Hain' from Border, 'I Love My India' from Pardes, 'Bholi Si Surat' from Dil To Pagal Hai and many more. It saw the supremacy of actors like Shah Rukh Khan, Govinda, Anil Kapoor, Sunny Deol and Akshay Kumar on the screen. While Madhuri Dixit, Juhi Chawla, Karishma Kapoor, Sridevi and Urmila Matondkar remained the top heroines. To see how the year 1997 was like at the box office, let's check these top 10 highest grossers of 1997 which turn 25 in 2022.
---
1. Border (13th Jun) (Budget – 10 Cr., Dom. Collection – 39.46 Cr., Worldwide – 54.53 Cr.)
Set during the Indo-Pakistani War of 1971, J. P. Dutta's multi-starrer epic war film Border starred an ensemble cast of Sunny Deol, Suniel Shetty, Akshaye Khanna, Jackie Shroff, Sudesh Berry, Puneet Issar, Kulbhushan Kharbanda, Tabu, Raakhee, Pooja Bhatt and Sharbani Mukherjee. The film was an adaptation of real-life events that happened during the Battle of Longewala in 1971, where 120 Indian soldiers in Longewala region defended their post all night till they got help from the Indian Air Force. The movie helped Akshaye Khanna bag that years Filmfare Best Male Debut Award. The movie also won three more Filmfare Awards and a total of 11 nominations. From the critically acclaimed storyline, performances of the actors, direction to evergreen soundtracks, the film had it all and was declared an all-time blockbuster. It became the highest-grossing Bollywood film of 1997, but stood second according to worldwide collections.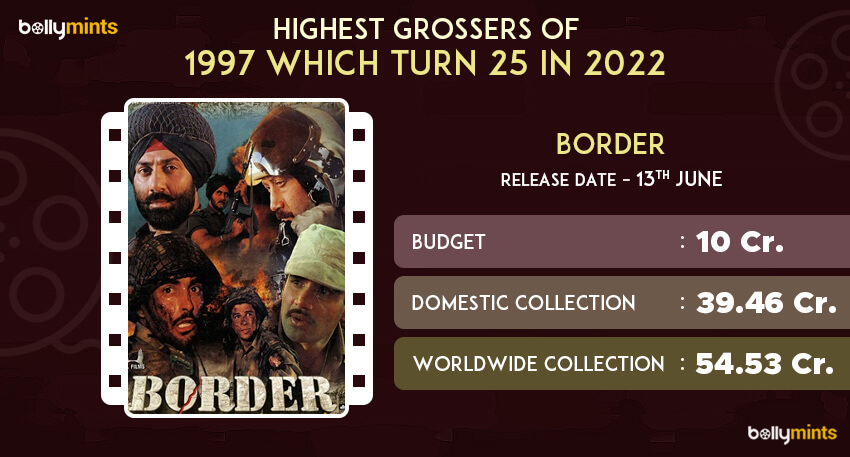 2. Dil To Pagal Hai (31st Oct) (Budget – 9 Cr., Dom. Collection – 34.97 Cr., Worldwide – 58.61 Cr.)
Starring Shah Rukh Khan, Madhuri Dixit, Karisma Kapoor and Akshay Kumar, Dil To Pagal Hai, directed by Yash Chopra, follows the love life of director of the dance troupe Rahul (Shah Rukh Khan). Nisha (Karisma Kapoor) is secretly in love with Rahul, who gets attracted to Pooja (Madhuri Dixit), who is engaged to Ajay (Akshay Kumar). This was Shah Rukh Khan's third film with Yash Chopra after Darr (1993) and Dilwale Dulhania Le Jayenge (1995), which followed the success of the previous two. The movie was praised by critics for its storyline, direction, performances of the actors and also the evergreen soundtracks. The film was the recipient of several awards and picked up eight Filmfare Awards. The movie was the second highest grossing film of the year, and according to worldwide collections, it stood first.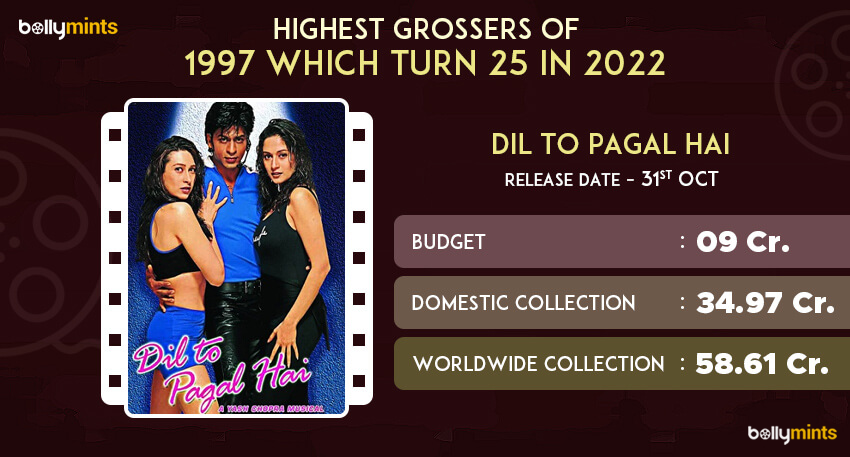 3. Ishq (27th Nov) (Budget – 11 Cr., Dom. Collection – 24.93 Cr., Worldwide – 35.89 Cr.)
The romantic action-comedy drama Ishq, directed by Indra Kumar, starred Aamir Khan, Ajay Devgn, Juhi Chawla and Kajol along with Dalip Tahil, Sadashiv Amrapurkar, Johnny Lever and Mohan Joshi in supporting roles. The movie opens to two wealthy businessmen Ranjit Rai (Sadashiv Amrapurkar) and Lal Saxena (Dalip Tahil), who despise the poor and wish to get their children, Ajay (Ajay Devgn) and Madhu (Juhi Chawla) respectively, to get married. However, Ajay falls in love with Kajal (Kajol), a poor girl, and Madhu falls in love with Raja (Aamir Khan), a mechanic. It was Indra Kumar's first film that didn't have Madhuri Dixit as the lead actress. The movie opened to mixed reviews from critics, however, the comic timing of the actors was praised. The Ishq soundtrack album composed by Anu Malik became one of the top ten best-selling Bollywood soundtracks of the year, and the film became the third highest-grosser of 1997.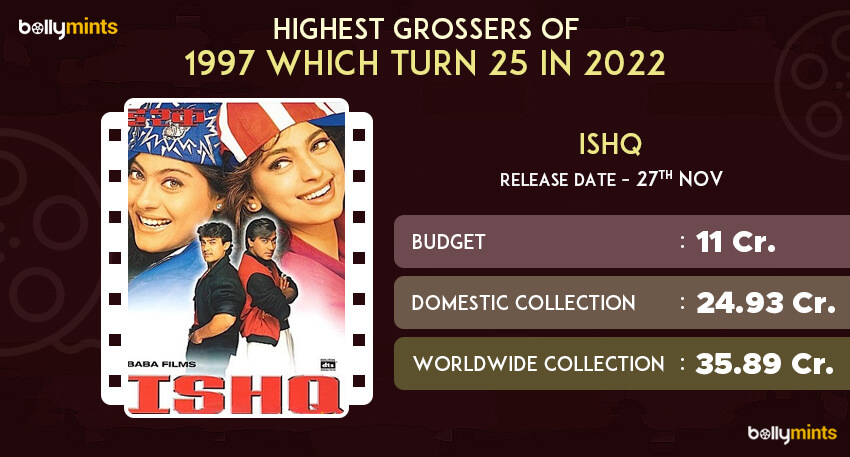 4. Pardes (8th Aug) (Budget – 10 Cr., Dom. Collection – 22.83 Cr., Worldwide – 36.61 Cr.)
Subhash Ghai's romantic musical drama Pardes marks the debut of actors Mahima Chaudhry and Apurva Agnihotri, and also stars Shah Rukh Khan. The movie opens to Kishori Lal Singh (Amrish Puri), who wants to get an Indian bride for his NRI son Rajiv (Apurva Agnihotri). Kishori Lal gets his son engaged to Ganga (Mahima Chaudhry), daughter of his friend residing in India. However, things take a turn when Ganga grows closer to Arjun (Shah Rukh Khan), Kishori Lal's foster son. It made newcomers Mahima Chaudhry and Apurva Agnihotri overnight stars. Mahima Chaudhry also received Filmfare Best Female Debut Award for her role. Despite receiving mixed reviews at the opening, the movie did well commercially and became the fourth highest grosser of the year.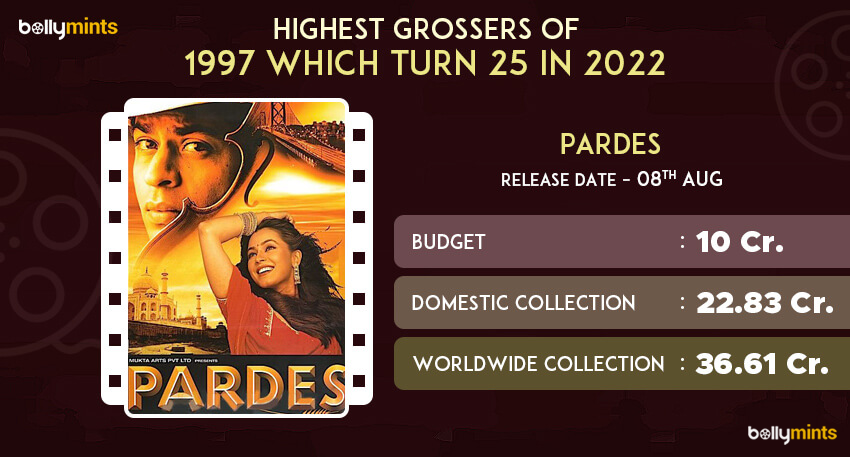 5. Ziddi (11th Apr) (Budget – 7.50 Cr., Dom. Collection – 18.39 Cr., Worldwide – 25.06 Cr.)
Guddu Dhanoa's action drama Ziddi starred Sunny Deol and Raveena Tandon in lead roles and Anupam Kher, Sachin Khedekar and Ashish Vidyarthi in important supporting roles. The movie follows the story of a young angry man Deva (Sunny Deol), who is feared by everyone for his ruthless ways. Deva saves the CM from being assassinated and seeks revenge from the culprits of his brother's murder. The movie flourished and was praised by both critics and audience. The songs were also well-received, and the song of the movie – 'Mera Dil Le Gayi Oye' became extremely popular. Sunny Deol's performance and dialogue delivery made the movie a super hit at the box office and it became the fifth highest-grossing film of 1997.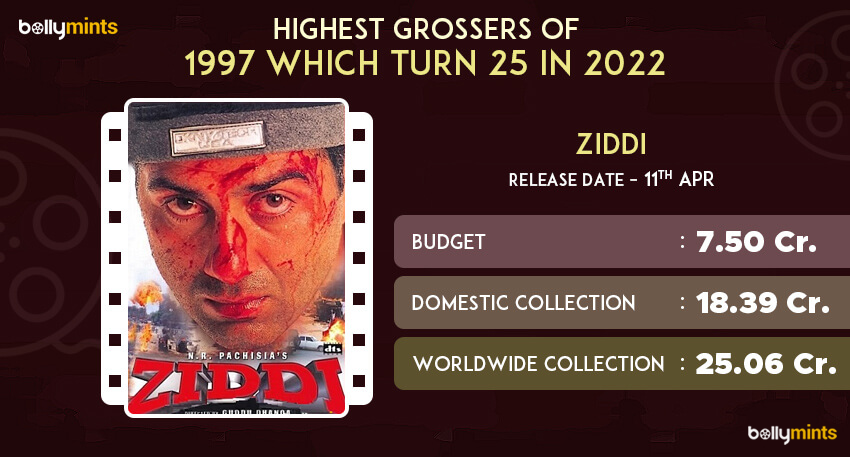 6. Gupt: The Hidden Truth (4th Jul) (Budget – 9.50 Cr., Dom. Collection – 18.23 Cr., Worldwide – 25.87)
Starring Bobby Deol, Kajol and Manisha Koirala, Gupt: The Hidden Truth, directed by Rajiv Rai, follows the story of Sahil Sinha (Bobby Deol), who is arrested for murdering his stepfather and politician Jaisingh Sinha (Raj Babbar). Sahil flees away from the jail and is determined to prove his innocence, while the police try to catch him. The movie had an interesting plot that gripped the audience till the end and melodious songs here and there were icing on the cake. Bobby Deol starrer Gupt: The Hidden Truth stood sixth on the list of top 10 highest box office collection movies in 1997 which turn 25 in 2022, just behind Ziddi starring his brother Sunny Deol.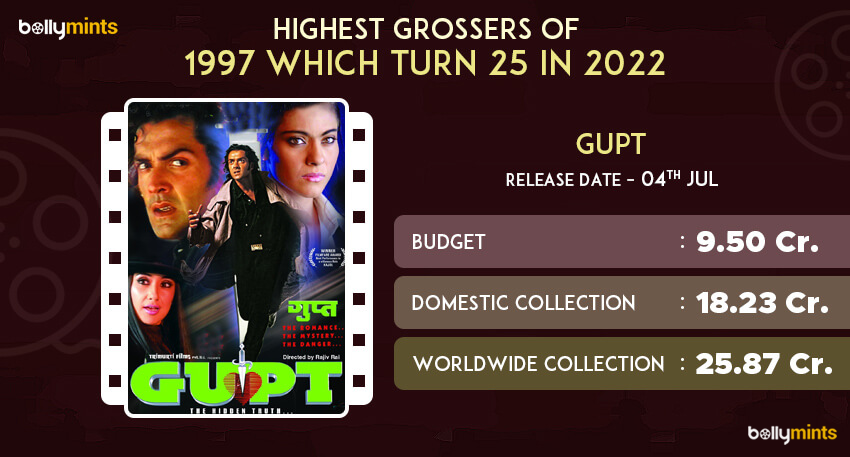 7. Hero No. 1 (21st Feb) (Budget – 6.75 Cr., Dom. Collection – 14.88 Cr., Worldwide – 22.02 Cr.)
Yet another combination of David Dhawan, Govinda and Karisma Kapoor was seen in the 1997 comedy-drama Hero No. 1. The film had taken its theme from Bawarchi (1972), which was the remake of Bengali film Galpo Holeo Satti (1966). The movie had a number of good scenes, including the one where Govinda gets dressed in a car, which was borrowed from 'The Mr. Bean' TV Show. It revolves around Rajesh 'Raju' Malhotra, son of a rich industrialist, who falls in love with Meena (Karisma Kapoor), but has a hard time convincing his relatives that he actually loves her. Comic timing of Govinda and David Dhawan's direction made the movie a wholesome 90s entertainment. Anand-Milind's composed music in the movie further made the movie more memorable and it became the seventh highest-grossing movie of the year.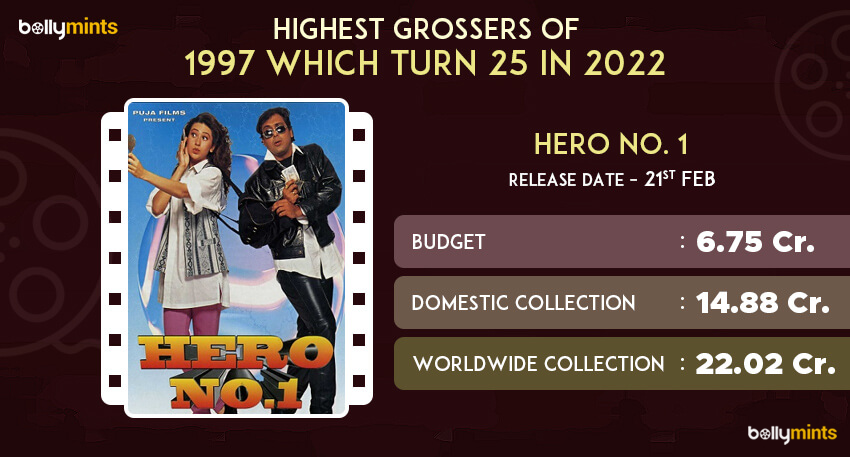 8. Koyla (18th Apr) (Budget – 12 Cr., Dom. Collection – 14.88 Cr., Worldwide – 22.02 Cr.)
Rakesh Roshan's action thriller drama Koyla stars Shah Rukh Khan and Madhuri Dixit in lead roles, with Amrish Puri, Johnny Lever, Ashok Saraf, Salim Ghouse and Himani Shivpuri in supporting roles. The movie follows the story of a mute but handsome boy Shankar (Shah Rukh Khan), who is raised by a ruthless criminal Raja (Amrish Puri), who treats him like his servant. Raja wants to marry a young village girl Gauri (Madhuri Dixit), and uses Shankar's picture to convince her to marry him. Gauri falls in love with Shankar after he saves her from Raja. Some of the soundtracks of the film became very popular. The film received warm reactions from the audience and Shah Rukh Khan's performance was praised by critics. It was the third film starring Shah Rukh Khan, after Dil To Pagal Hai and Pardes, which made to the top 10 highest-grossing films of 1997 list, as it stood eighth on the list.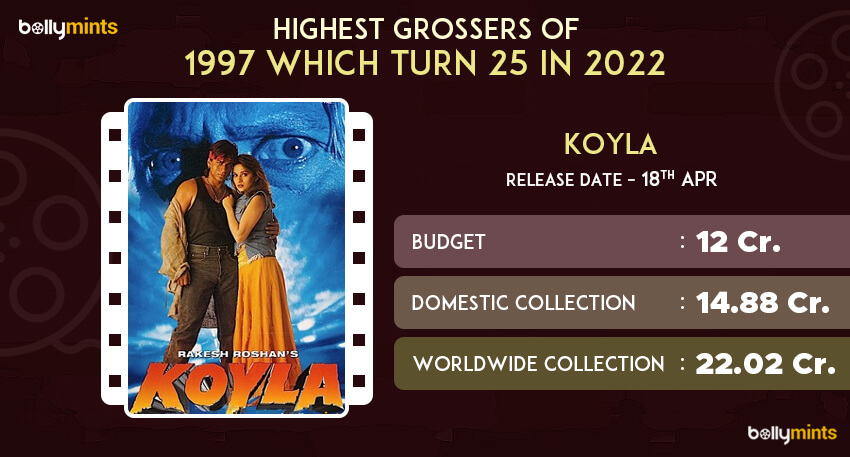 9. Judaai (28th Feb) (Budget – 6 Cr., Dom. Collection – 14.10 Cr., Worldwide – 22.07 Cr.)
Starring Anil Kapoor, the melodrama comedy film Judaai, directed by Raj Kanwar, also starred Urmila Matondkar and Sridevi. The film revolved around a greedy woman named Kajal (Sridevi). Lured by wealth, Kajal convinces her husband Raj (Anil Kapoor), an honest engineer to marry a rich girl Janhvi (Urmila Matondkar), who is in love with Raj and agrees to give up all of her wealth for Raj. The film was widely praised for the performances of the actors, melodious soundtracks and gripping storyline. It was a major commercial success and recipient of several Filmfare Award nominations. The film occupied ninth place in the 'Top 10 successful/highest grossing movies of 1997 which turn 25 in 2022' list.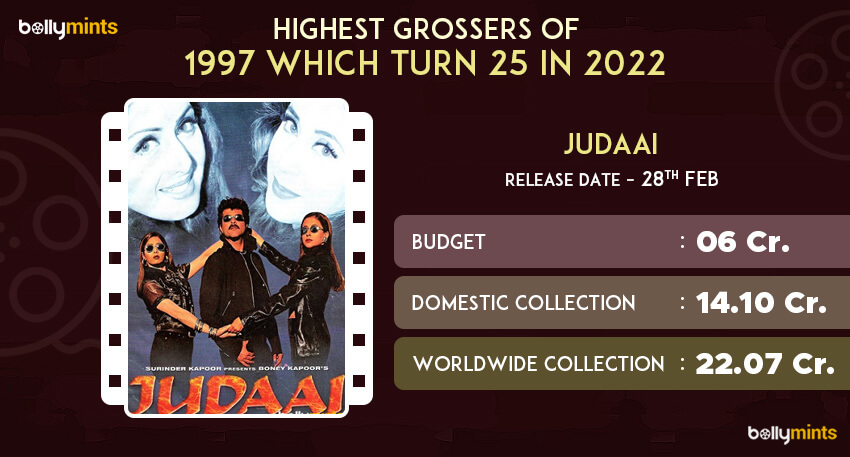 10. Deewana Mastana (10th Oct) (Budget – 7 Cr., Dom. Collection – 13.59 Cr., Worldwide – 19.21 Cr.)
David Dhawan's romantic comedy drama Deewana Mastana stars Govinda, Anil Kapoor and Juhi Chawla in titular roles with Johnny Lever, Anupam Kher, Reema Lagoo, Shakti Kapoor, Saeed Jaffrey and Kader Khan in supporting roles. The movie revolves around a psychiatrist named Neha (Juhi Chawla). Raja (Anil Kapoor), a small-time crook, and Neha's patient, Sameer (Govinda), both try to win Neha's heart by outsmarting each other. The film is packed with funny scenes and doesn't fail to tickle your funny bones. It promised to be a family one and was a complete entertainer. David Dhawan and Govinda combination again worked on the screen and the film became successful at the box-office.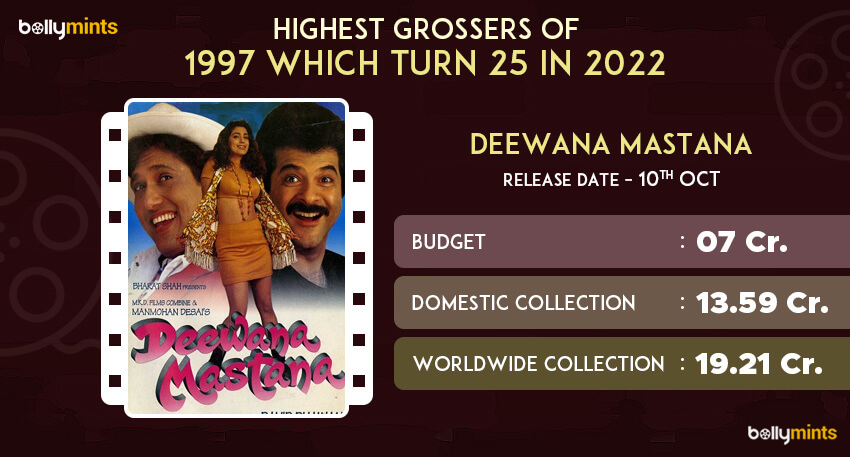 ---