10 Beautiful Bollywood Actresses Who Married Thrice Or More
Posted On: 05 Aug 2021 | Last Updated : 20 Jan 2023 | Views : 1k
In a country like India, divorce and remarriage are still considered taboo. Traditionally, the attitude of society towards remarriage is characterized by suspicion, especially in the case of women. Indian society is supposedly a patriarchal society where a woman seeking remarriage is often looked down upon. She's considered incompetent for not being able to become a good wife. In such a society, where a woman has to deal with fears, concerns, and humiliation concerning remarriage, there have been few bold women who married not twice but thrice or more. As time passes, with our research we are sure of turning this article into the top 10 Bollywood actresses who married more than one time but for now, let's check out these 8 Bollywood actresses who did not believe in the concept that you only love once and married thrice or more.
---
1. Neelima Azeem - (Pankaj Kapoor (1979-84), Rajesh Khattar (1990-2001), Raza Ali Khan (2004-09))
Talk about Bollywood actress's marriage life and often we get to read of Neelima Azeem, the Indian actress, and mother to actors Shahid Kapoor and Ishaan Khattar. Neelima Azeem appeared in Bollywood movies like Sadak (1991), Karm Yodha (1992), Sooryavansham (1999), Ishq Vishk (2003), Dehraadun Diaries (2013), and Lootcase (2020). In the year 1979, Neelima married actor Pankaj Kapoor and had a son – Shahid Kapoor. The couple parted ways in 1984. Later, she married actor Rajesh Khattar and had a son – Ishaan Khattar. After finally ending her second marriage with Rajesh Khattar, she found love in her childhood friend Ustad Raza Ali Khan, but this marriage lasted only five years. Once in an interview, Neelima said that the first time she ever experienced grief, sorrow, rejection, and fear of the unknown and a whole lot of anxiety was when her first marriage ended. About her second marriage, she said that it might have lasted if things wouldn't have happened the way they happened.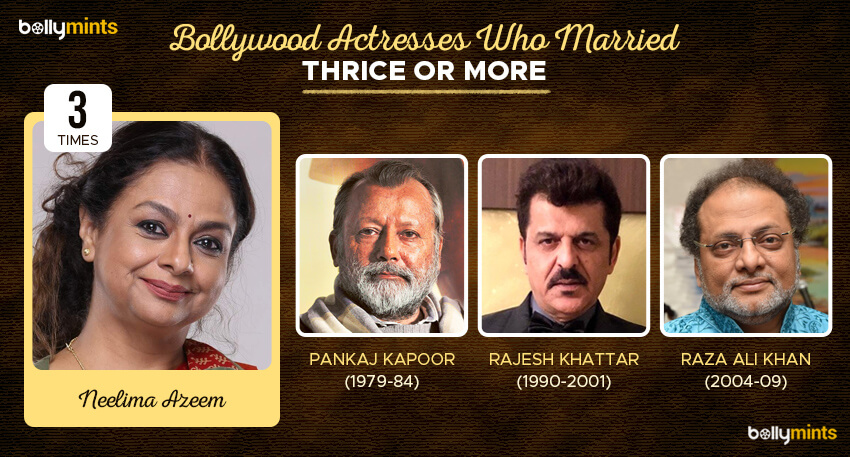 2. Sitara Devi - (Mr. Desai, Nazir Ahmed Khan, K. Asif, Pratap Barot)
Sitara Devi, an Indian actress and recipient of several awards appeared in Bollywood movies like Devdas (1935), Holi (1940), Aaj Ka Hindustan (1940), Roti (1942), Phool (1945), and Nagina (1951). She married four times. Her first marriage was to Mr. Desai, not much is known about him. Her second marriage was to Nazir Ahmed Khan, Bollywood's famous film director, and actor, who migrated to Pakistan post-partition and also the father-in-law of Nasir Khan (Dilip Kumar's brother). They had a huge age difference of sixteen years and as they belonged to different religions, Sitara Devi being Hindu and Khan being Muslim, she converted to Islam. The marriage was short and childless. Her third marriage was to the famous film director K. Asif, who was also the first cousin of her second husband. This marriage too was short and childless. Devi's fourth and final marriage was to Pratap Barot, with whom she had a son – Ranjit Barot who is a composer in Bollywood.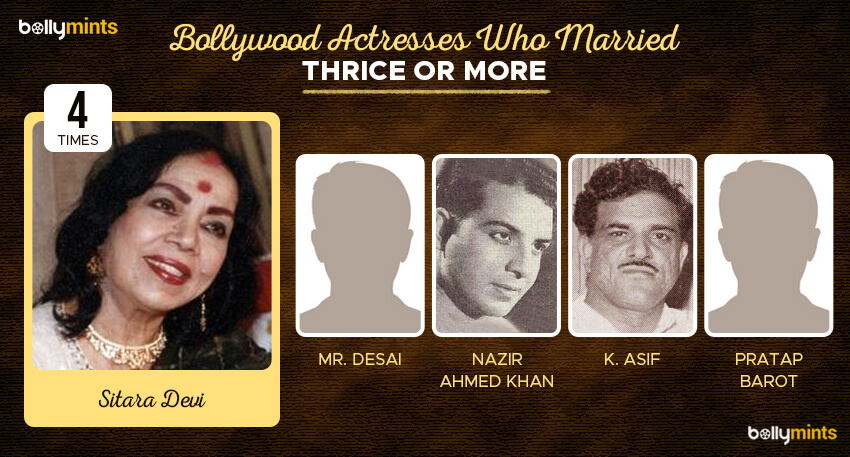 3. Raadhika Sarathkumar - (Pratap Pothen (1985-86), Richard Hardy (1990-92), R. Sarathkumar (2001))
Raadhika Sarathkumar is an Indian actress and producer known for her work in Hindi, Tamil, and Telugu movies. Some important Bollywood movies featuring Raadhika were Naseeb Apna Apna (1986), Aaj Ka Arjun (1990), Mera Pati Sirf Mera Hai (1990), and Lal Baadshah (1999). Raadhika married three times, her first marriage was to South Indian actor and director Pratap Pothen in 1985, but the marriage was short-lived. Her second marriage was to a British man Richard Hardy with whom she had her first child Rayane, but this marriage too lasted for a short period. Raadhika finally found love in her third husband, a famous Kollywood actor, and politician, R. Sarathkumar. She married Sarathkumar in 2001, and they were blessed with a baby boy in 2004.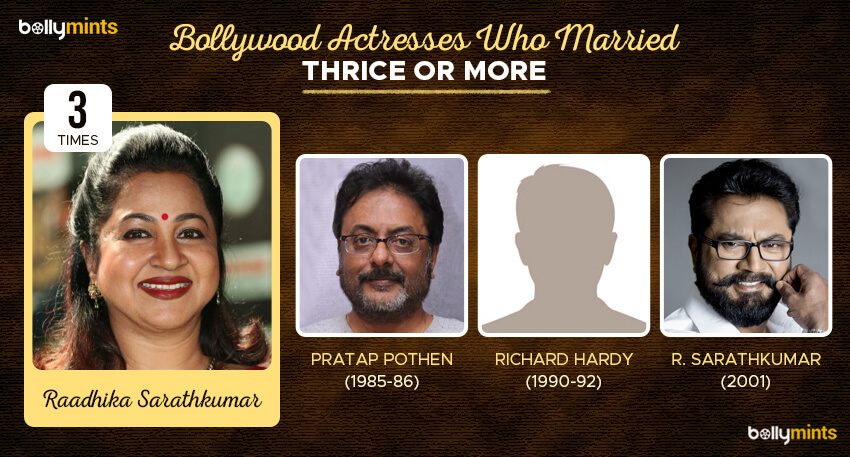 4. Lakshmi - (Bhaskar (1969-74), Mohan Sharma (1975-80), Shivachandran (1987))
Yaragudipadi Venkata Mahalakshmi, professionally known as Lakshmi, is an Indian actress who predominantly worked in the Hindi as well as the South Indian film industry. The Bollywood movies she appeared in were Julie (1975), Jeevan Mukt (1977), Aangan Ki Kali (1979), and Hulchul (2004). In 1969, Lakshmi married Bhaskar, who worked in the insurance company and had her first daughter, actress Aishwarya, but the marriage ended soon. Her second marriage was to Indian film and television actor Mohan Sharma who was her co-star in the Malayalam film Chattakkari (1974). After her second divorce, Lakshmi married Shivachandran, an Indian actor, director, and writer. They fell in love on the sets of the Tamil film En Uyir Kannamma (1988). They also adopted a girl named Sanyukta in 2000.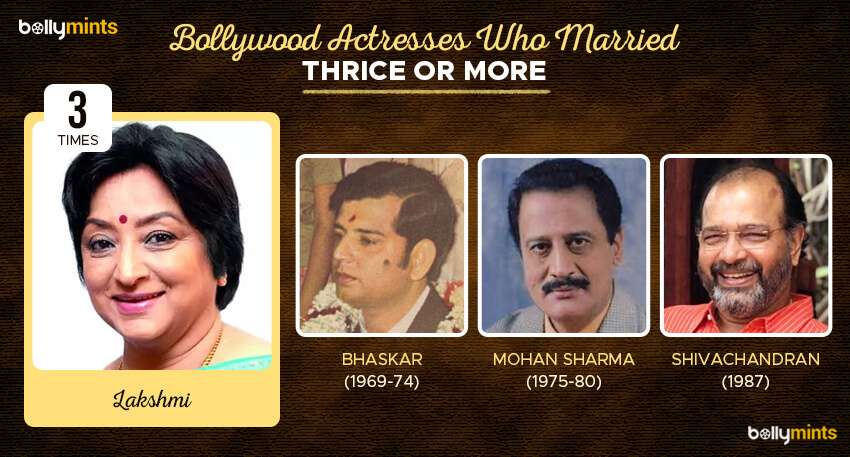 5. Zeba Bakhtiar - (Salman Valliani, Man from Quetta, Jaaved Jaaferi, Adnan Sami, Sohail Khan Leghari)
Zeba Bakhtiar is a Pakistani actress and director, who appeared in some Bollywood movies like Henna (1991), Stuntman (1994), and Jai Vikraanta (1995). Bakhtiar has married five times. Though much has been written and speculated on the number of times the Henna actress married but according to our research, her first husband was Salman Valliani, to whom she married in 1982. They separated, and Zeba went on to marry a man from Quetta (the name is unknown), with whom she had a daughter – Bobby. Her third marriage was to the famous Bollywood actor and comedian Jaaved Jaaferi, this marriage was short-lived and childless. Zeba came in news with her fourth marriage, this time she married a renowned musician Adnan Sami in 1993, and they have a son named Azaan. Finally, she married a Pakistani politician Sohail Khan Leghari.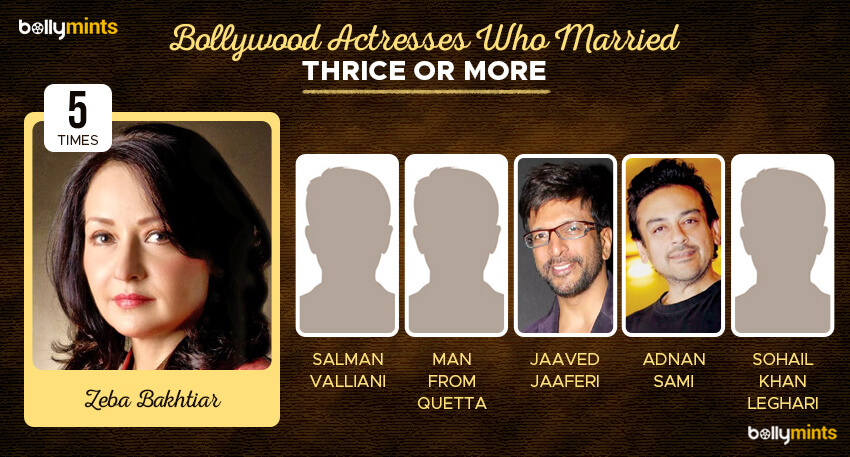 6. Noor Jehan - (Shaukat Hussain Rizvi, Ejaz Durrani, Yousuf Khan)
Noor Jehan, also known by her title Malika-e-Tarannum (the queen of melody), was a Bollywood actress and singer who migrated to Pakistan post-partition. She started working as an actress in British Indian and then the cinema of Pakistan. Indian movies in which she was seen are – Khandaan (1942), Badi Maa (1945), Zeenat (1945), Gaon Ki Gori (1945), Anmol Ghadi (1946) and Jugnu (1947). In 1944, she married Shaukat Hussain Rizvi, and they migrated to Pakistan in 1948. Their marriage ended in 1953, and together they had three children. She was also in a relationship with cricketer Nazar Mohammad. In 1959, she married Ejaz Durrani, and she had three children with Durrani too. Their marriage ended in 1970, and Noor Jehan finally married Pakistani actor Yousuf Khan.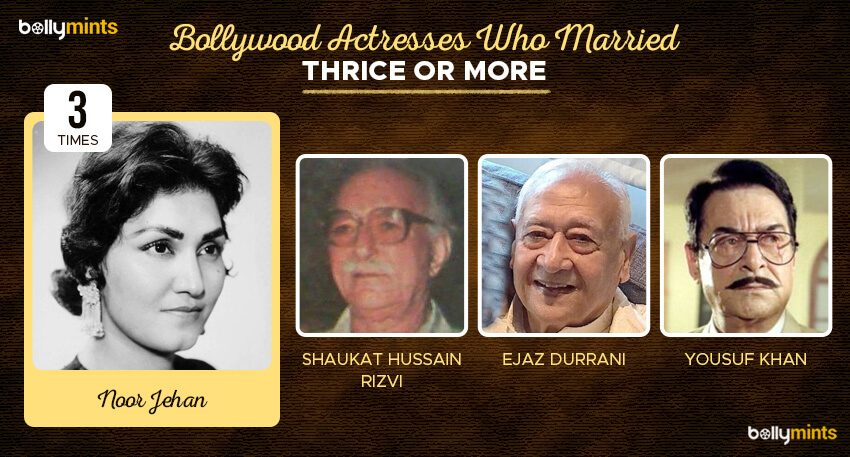 7. Salma Agha - (Javed Sheikh, Rahmat Khan, Manzar Shah)
Salma Agha is a Pakistan-born actress who has acted in many Indian and Pakistani movies. Some of her Bollywood movies are – Nikaah (1982), Kasam Paida Karne Waale Ki (1984), Mahaveera (1988), Kanwarlal (1988), and Pati Patni Aur Tawaif (1990). Salma Agha married three times, her first marriage was to renowned actor Javed Sheikh in the 1980s, their marriage was short-lived and childless. After divorcing Javed Sheikh, Salma married squash player Rahmat Khan in 1989 and together they've two children – Sasha Agha and Ali Agha Khan (Liaqat Ali Khan). They got divorced in 2010. In 2011, Salma married her current husband, a Dubai-based businessman Manzar Shah. Currently, Salma lives in Mumbai with her actress daughter – Sasha Agha who had made her acting debut opposite Arjun Kapoor in Aurangzeb in 2013.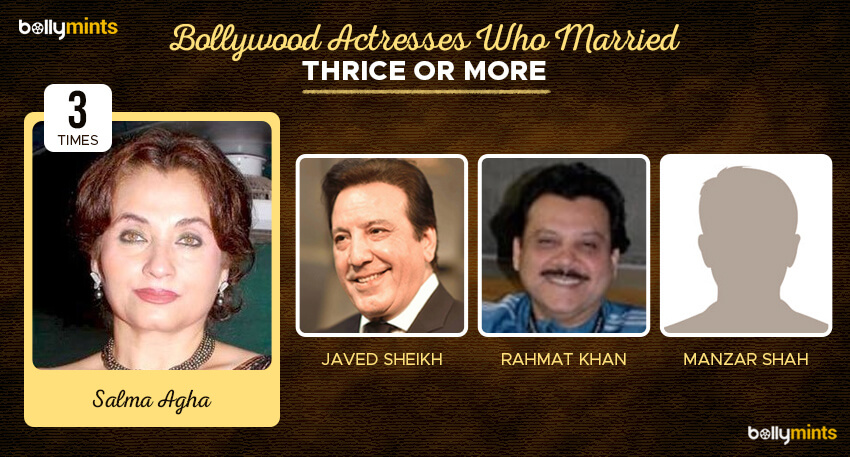 8. Neena Gupta - (Amlan Kumar Ghose, Vivian Richards, Vivek Mehra)
Neena Gupta, the famous Bollywood actress, and television director also reportedly got married thrice. She has acted in many international films and is a recipient of the National film award. She slowly disappeared from films because of the lack of good roles, however, made a comeback with the Bollywood movie Badhaai Ho in 2018. She won the Filmfare Critics Award for Best Actress for her role. Her other important Bollywood movies are - Teree Sang (2009), Veer (2010), Alone (2015), Veere Di Wedding (2018), Shubh Mangal Zyada Savdhaan (2020), and Sardar Ka Grandson (2021). In 2021, her autobiography 'Sach Kahun Toh' was published in which she made revelations about her first marriage with Amlan Kumar Ghose, an IIT student, which didn't even last a year. The couple ended the marriage as Ghose's parents were against the marriage. After her divorce from Amlan, Neena was in a relationship with Vivian Richards, together they had a daughter Masaba Gupta. Her marriage with Richards is still doubtful as Vivian denied leaving her wife. In 2008, Neena Gupta married Delhi-based Chartered Accountant Vivek Mehra.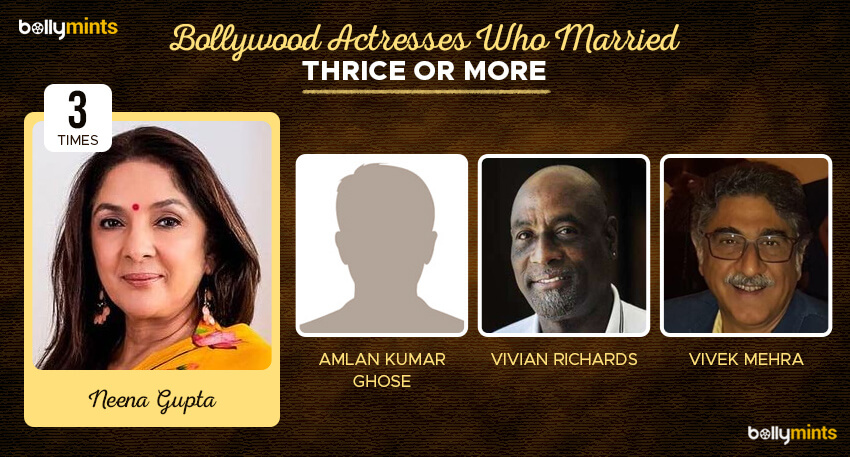 9. Meena Shorey - (Zahur Raja, Al Nasir, Roop K. Shorey, Raza Mir, Asad Bukhari)
Meena Shorey the producer and actress of the 40s and 50s who initially worked in Bollywood and Pakistani films had appeared in some popular films like Sikandar (1941), Prithvi Vallabh (1943), Actress (1948), Ek Thi Ladki (1949), Dholak (1951), and Ek Do Teen (1953). She features among female celebs who married five times. Her first marriage was to actor-producer-director Zahur Raja which was short-lived while her second marriage with actor Al Nasir was also short-lived as the two separated reportedly in 1946. Her third marriage was to actor-director Roop K. Shorey that lasted till 1956 while her fourth marriage was to Raza Mir, a resident of Pakistan which also, unfortunately, didn't work out. Her fifth marriage was with her Pakistani movie co-star Asad Bukhari. Meena lived in poverty till her death in 1989.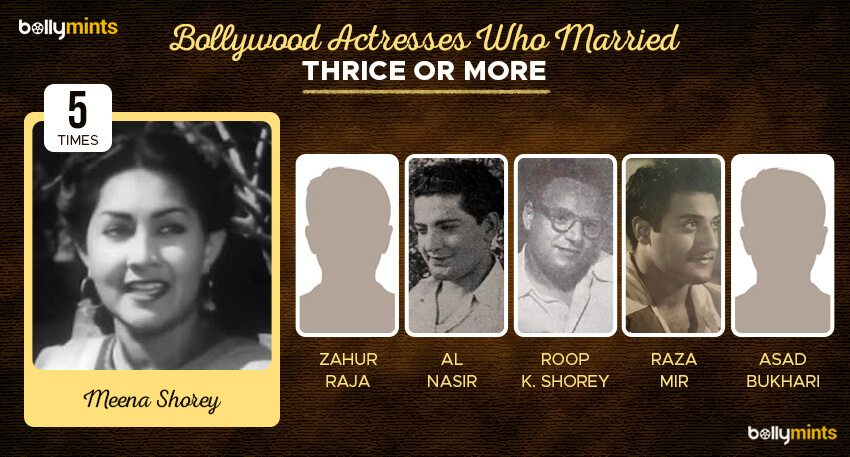 10. Runa Laila – (Khawaza Javed Kaiser, Ron Daniel, Alamgir)
Bangladeshi playback singer Runa Laila may not be the quintessential Bollywood actress to qualify in this list but nevertheless can be a Bollywood female celeb who married thrice. After a successful stint in Bangladesh, she made her Bollywood playback singing debut in 1976 with music composer Kalyanji-Anandji who gave her a break with the title song of the film Ek Se Badhkar Ek. Thereafter she also sang songs in Gharaonda, Yaadgaar, Ghar Dwaar, Agneepath, etc. On the personal front, she first was married to Khawaza Javed Kaiser which ended in a divorce. Her second marriage was to a Swiss citizen named Ron Daniel and then actor Alamgir from whom she has a daughter named Tani.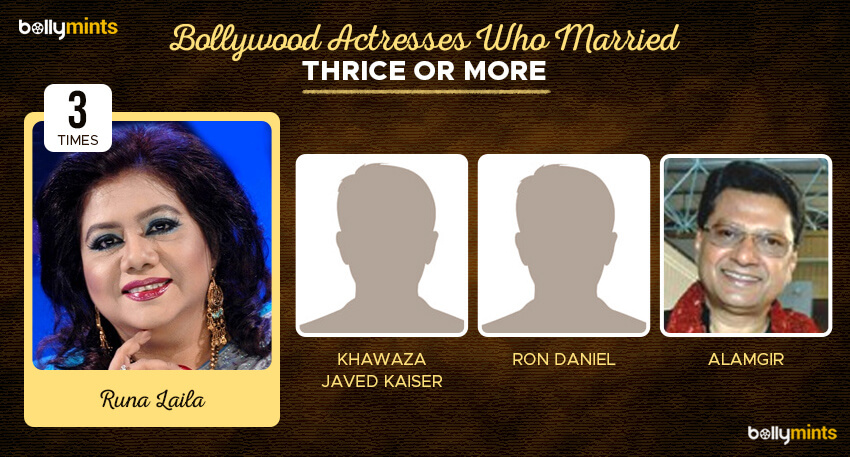 ---