13 Bollywood Female Composers Who Struck The Right Chords
Posted On: 23 Aug 2021 | Last Updated : 14 Jun 2023 | Views : 5.8k
Even in the 20th century, Bollywood remains a male dominant industry, where females are confined to acting, film production, costume designing, or art direction. A career as a music director doesn't happen by chance, a person must have sheer knowledge of music. A profession that requires a lot of patience that many lacks and end up becoming a playback singer instead. However, many women are taking Bollywood as well as web space by storm with their music compositions. The rise in the number of female composers in Bollywood is proof that there are more opportunities in the industry, and females are overcoming impediments in every sphere of work. Let's check out these 13 Bollywood female music directors who not just struck the right chords but also proved that composing songs for films is not just a man's domain anymore:
(Note: We haven't included female music directors in the list who have composed for solo films like Amirbai Karnataki (Shahnaz - 1948), Merlyn D'Souza (Bas Yun Hi - 2003), Sana Kotwal (Contract - 2008) & Ishrat Sultana (Bibbo) (Qazzak Ki Ladki - 1937)).
---
1. Saraswati Devi
Saraswati Devi or Khorshed Minocher-Homji was one of the first female music composers in India. She worked in Indian cinema in the 30s and 40s and her score – 'Main Ban Ki Chidiya Banke Bun Bun Dolun Re' in Bombay Talkies' Achhut Kanya (1936) is the most noted work. Many may not know, but she is the original composer of the famous song 'Ek Chatur Naar Karke Shringar'. She is known for her work in movies like Jeevan Naiya (1936), Miya Biwi (1936), Vachan (1937), Bandhan (1940), Jhoola (1941), Aamrapali (1945), and Khandani (1947).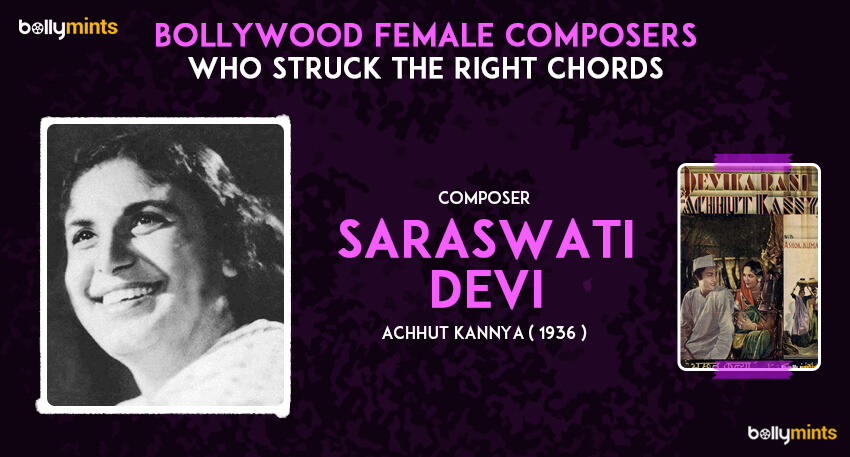 2. Jaddanbai
Jaddanbai was an Indian singer, music composer, actress, and filmmaker. She, along with Saraswati Devi, was one of the first female music composers. The mother of actors Anwar Hussain and Nargis, and maternal grandmother of actor Sanjay Dutt, Jaddanbai, worked in the Indian cinema in the 1930s and 1940s. Her mother, Daleepabai Miyan Jaan, was a courtesan and her first mentor. Jaddanbai became a more popular courtesan than her mother and started recording ghazals and performed in mehfils in different cities. She composed music for movies like Prem Pariksha, Seva Sadan, Talashe Haq (1935), and Madam Fashion (1936).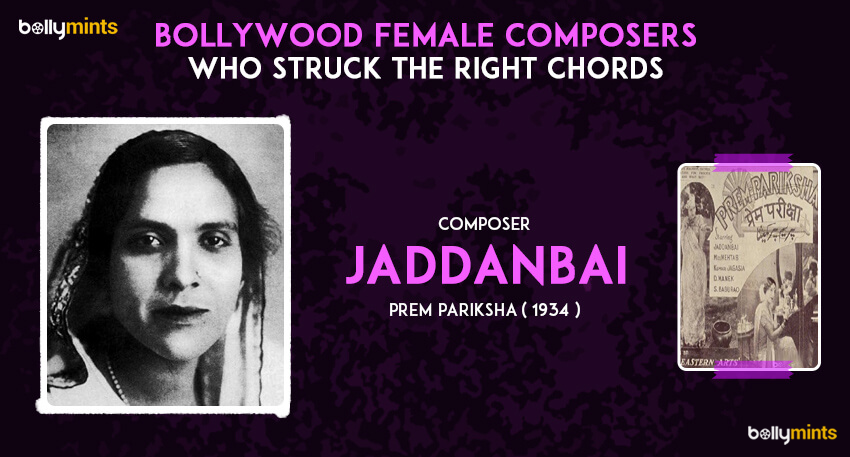 3. Usha Khanna
Usha Khanna was the third woman music director or should we say female music composer to enter the Indian film industry after Jaddanbai and Saraswati Devi. She started her music career in Bollywood with Nasir Hussain's romantic comedy Dil Deke Dekho (1959) starring Asha Parekh and Shammi Kapoor. She is known for her work in movies like Nishan (1965), Khoj (1971), Hawas (1974), Saajan Bina Suhagan (1978), Bin Phere Hum Tere (1979), Souten (1983), and Paisa Yeh Paisa (1985). In her time, she gave chances to little-known singers who went on to become notable singers like Anupama Deshpande, Pankaj Udhas, Mohammed Aziz, and Sonu Nigam.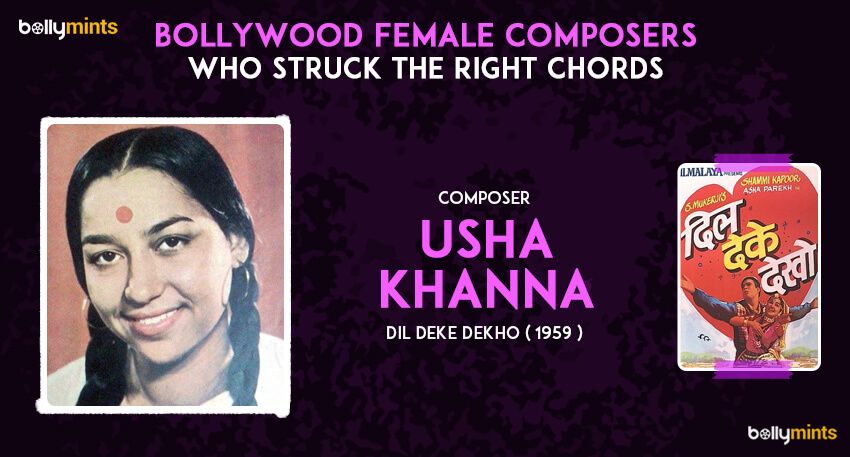 4. Chitra Singh
Chitra Singh, the wife of famous Ghazal singer Jagjit Singh, is an Indian Ghazal singer and music composer. They were known as 'The King and Queen of the Ghazal World' and the duo created some of the most successful Indian music of the 70s and 80s. She is known for her compositions in films like Aaj (1987), Raahee (1987), Kalka (1983), Sitam (1982), and Arth (1982). She along with her husband Jagjit Singh also composed songs for the Punjabi movie Long Da Lishkara (1983). After the tragic death of her son Vivek in 1990, Chitra Singh has never sung in public or recorded any song.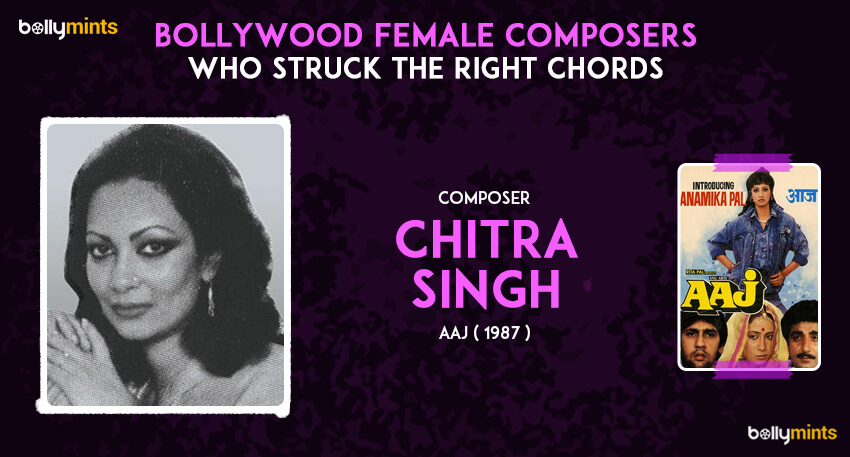 5. Sneha Khanwalkar
Sneha Khanwalkar, one of the most successful music composers of Bollywood, is best known for her score for the film Oye Lucky! Lucky Oye! (2008). She traveled through rural North India for this soundtrack and beautified it with the Haryanvi musical influences. She has composed music for movies like Sarkar Raj (2008), Bheja Fry 2 (2011), Gangs of Wasseypur (2012), Dishkiyaoon (2014), Youngistaan (2014), Singh Is Bliing (2015). She travels a lot, especially to rural places, to research the music and learn from locals. Therefore, all her scores have a touch of rural India.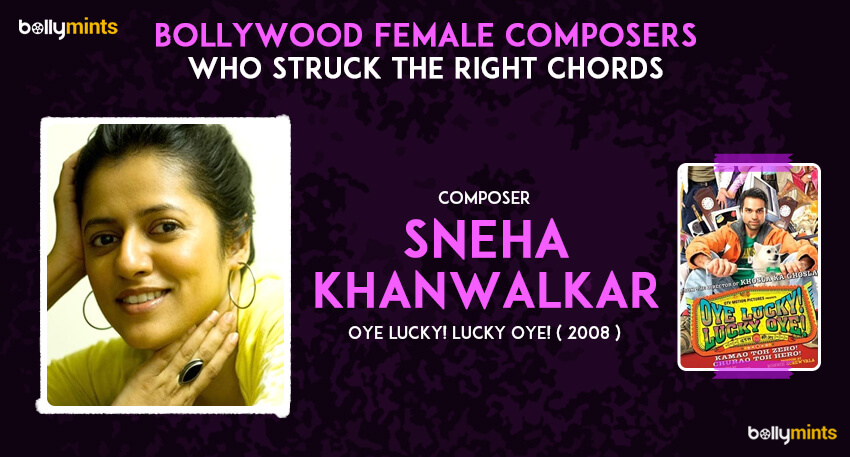 6. Jasleen Royal
If we talk about Bollywood famous female music composers, Jasleen Royal will make it to the top of the list. She is an Indian singer, songwriter, and music composer who gained popularity with the reality show India's Got Talent in 2009. She started her career in Bollywood as a playback singer with the Sonam Kapoor starrer film Khoobsurat (2014), in which she sang a song titled 'Preet', it was composed by Sneha Khanwalkar. She has composed songs for movies like Baar Baar Dekho (2016), Phillauri (2017), and Gully Boy (2019).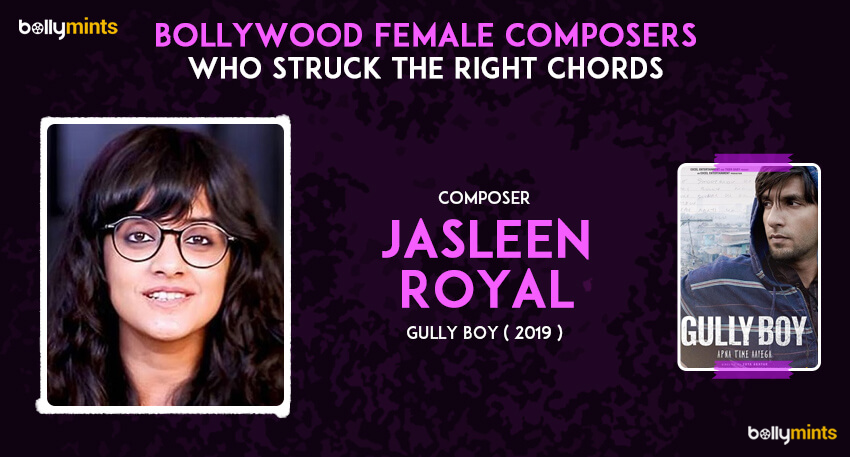 7. Rachita Arora
Rachita Arora, an Indian female musician, is trained in classical music. Before entering the film industry, she used to compose music for theatres. She started her career as a music composer in Bollywood with the Pankaj Tripathi starrer Gurgaon (2016), which was followed by Rajkummar Rao starrer Newton (2017) for which she composed a song titled 'Chal Tu Apna Kaam Kar'. She is also known for her work in movies like Shubh Mangal Saavdhan (2017), Mukkabaaz (2018), Judgementall Hai Kya (2019), Kanpuriye (2019), and Kaamyaab (2020). In a short period, she has established herself and given the best music to Bollywood.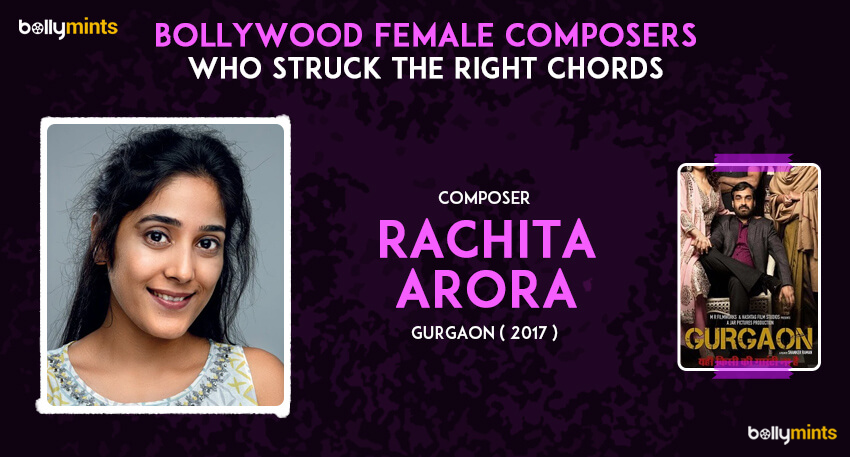 8. Samira Koppikar
Samira Koppikar is another woman music director of Bollywood who not just composes but also sings and pens songs. She started her music career by recording advertising jingles and thereafter made her debut in Bollywood as a playback singer with T-series films' Hate Story 2 (2014), for which she sang a song titled 'Aaj Phir Tumpe'. She made her debut as a music composer with Anushka Sharma starrer NH10 (2015). She has also composed music for movies like Dobaara: See You Evil (2017), Bareilly Ki Barfi (2017), and Laal Kaptaan (2019).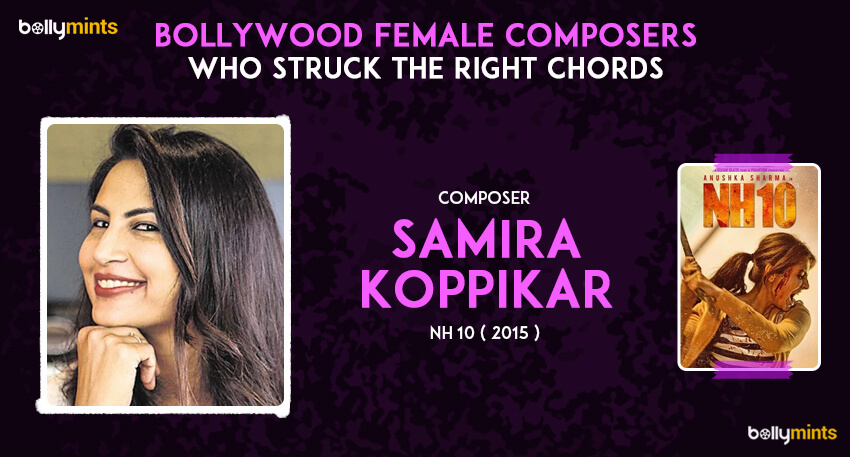 9. Sonal Pradhaan
Sonal Pradhaan is an upcoming Bollywood music composer and songwriter who has already been recognized as a competent musician of the Indian film industry. She started her music career in Bollywood as a songwriter and composed music for movies like Blank (2019) and Ghost (2019).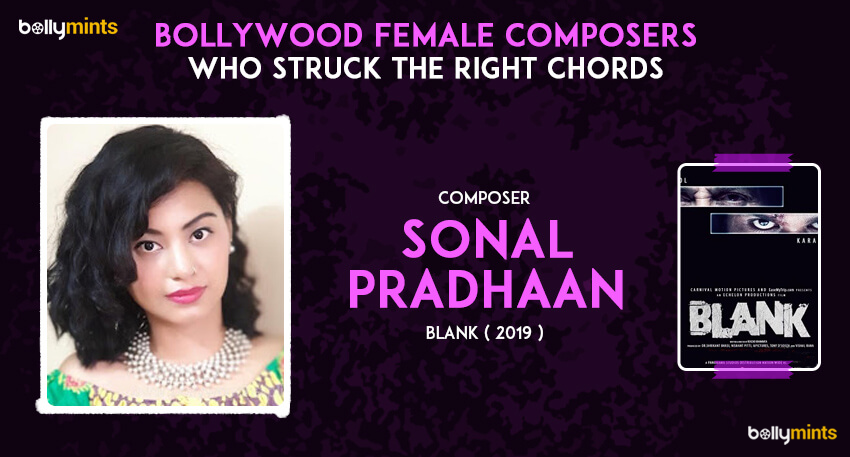 10. Parampara Thakur
Parampara Thakur was one of the finalists of The Voice India (Season 1). The renowned singer, lyricist, and music composer, Parampara Thakur, is the wife of famous musician Sachet Tandon, and this husband-wife duo is known as Sachet - Parampara. They have composed music for movies like Pal Pal Dil Ke Paas (2019), Kabir Singh (2019), Pati Patni Aur Woh (2019), and Street Dancer 3D (2020).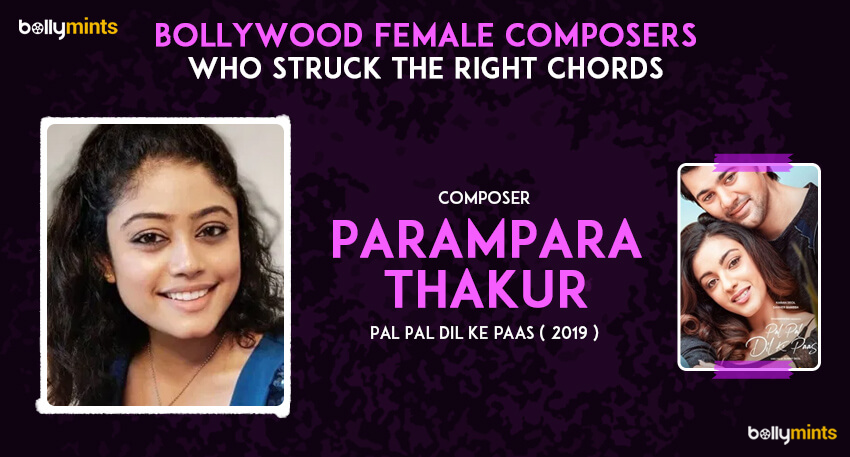 11. Payal Dev
Payal Dev, the wife of music producer Aditya Dev, is one of the top female music composers of Bollywood. She started her career in Bollywood as a playback singer with Sanjay Leela Bhansali's epic historical romance Bajirao Mastani (2015). She is a successful playback singer. Recently, she took to music composing and has composed songs for movies like Tum Bin 2 (2016), Khandaani Shafakhana (2019), Marjaavaan (2019), Ginny Weds Sunny (2020) and Mumbai Saga (2021).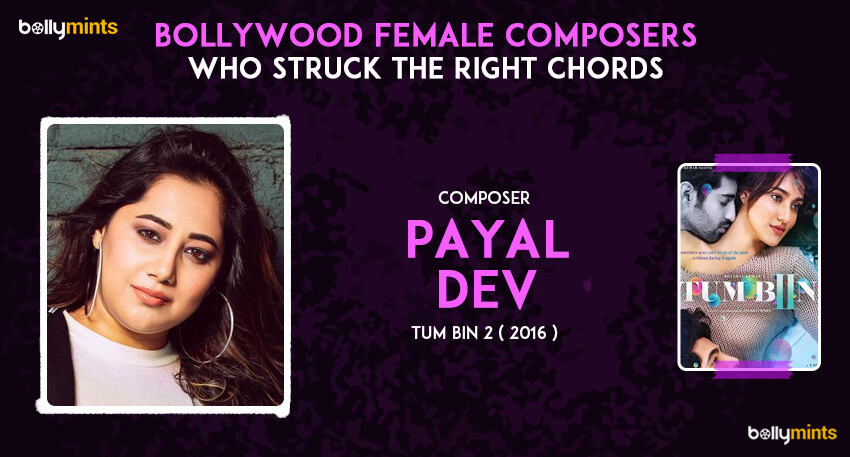 12. Alokananda Dasgupta
Alokananda Dasgupta, daughter of the famous poet and filmmaker Buddhadeb Dasgupta, is counted among the best female music composers. Before becoming a music composer, she assisted Amit Trivedi on films like Udaan (2010), Aisha (2010), No One Killed Jessica (2011), and Chillar Party (2011). She started her career in Bollywood as a music composer with the 2013 film B. A. Pass and went on to compose for movies like Trapped (2016), Half Widow (2017) and Roam Rome Mein (2021). She has also composed music for famous TV series like Breathe (2018), Sacred Games (2018), and Leila (2019).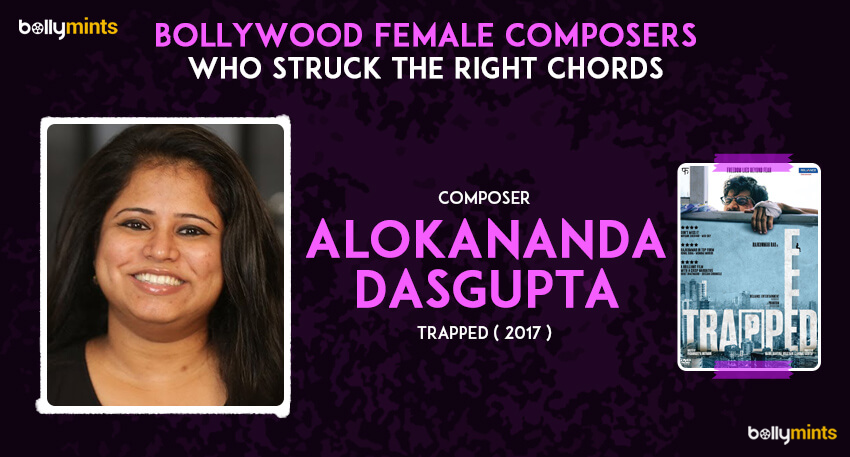 13. Sharda
Not many know that veteran playback singer Sharda who crooned hits like Titli Udi (Suraj), Jaan-e-Chaman Shola Badan (Gumnaam), Chale Jaana Zara Thhahro (Around The World), Woh Pari Kahan Se Laoon (Pehchan) and Baat Zara Hai Aapas Ki (Jahan Pyar Miley – 1969) in the 60s and 70s was also a music director. She turned music director in 1974 with Maa Bahen Aur Biwi and later followed it up with movies like Tu Meri Main Tera, Kshitij, Mandir Masjid, and Maila Aanchal. She passed away in 2023 due to cancer at the age of 85.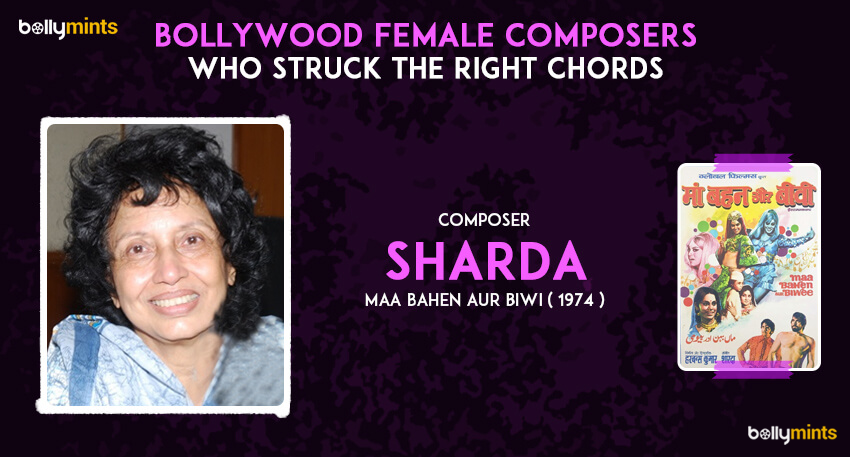 ---