12 Most Wicked Mothers-In-Law Of Bollywood Whom We Loved To Hate
Posted On: 15 Jul 2021 | Last Updated : 08 Mar 2022 | Views : 5.4k
Call them treacherous, cruel, evil, or wicked, most of Bollywood's on-screen mothers-in-law were meant to play spoilsport in a family drama. She would be fine till the son didn't marry but as soon as he got married against her wishes she turned into a scheming and cunning mother-in-law with occasional support from a real daughter. Mothers-in-law earlier were termed as vamps played by actresses who specialized in that particular character roles and got the better of everyone in the family especially the good daughters-in-law. We have often seen umpteenth family dramas where the relationship between a mother-in-law and her daughter-in-law translated into some of the most iconic on-screen portrayals by legendary actresses, over the years. As a tribute, we take you through some of Bollywood's most evil mothers-in-law who despite getting typecast delivered scintillating performances as vamps on the big screen.
(Note: We haven't included the likes of Tanvi Azmi, Supriya Pathak, Sudha Chandran, etc. who didn't appear as the treacherous mother-in-law in many films.)
---
1. Lalita Pawar
If at all there was a name in Bollywood which was synonymous with an evil mother-in-law then it would easily be the brilliant Lalita Pawar. Her portrayal of a cruel 'saas' couldn't have been bettered to date by any other actress. She was the one who gave prominence to words like Kulta, Kamini, Kalmuhi, Kalankini, Karamjali and Daayan…Tu Mar Kyun Nahin Jaati…? The way audiences would cringe seeing her on-screen torturing her 'bahu' spoke volumes of her acting prowess. Though she was one of the most popular heroines of her time, but after losing an eye in an accident during a film shoot, she had to take up supporting roles. Her first stint as a mother-in-law was reportedly in V Shantaram's Dahej (1950) which gave her the tag of a fearsome 'saas'. Her other notable works include her roles in films like Junglee (1961), Phool Aur Patthar (1966), Nauker (1979), Sau Din Saas Ke (1980), Ek Din Bahu Ka (1983), Ghar Sansar (1986), and others.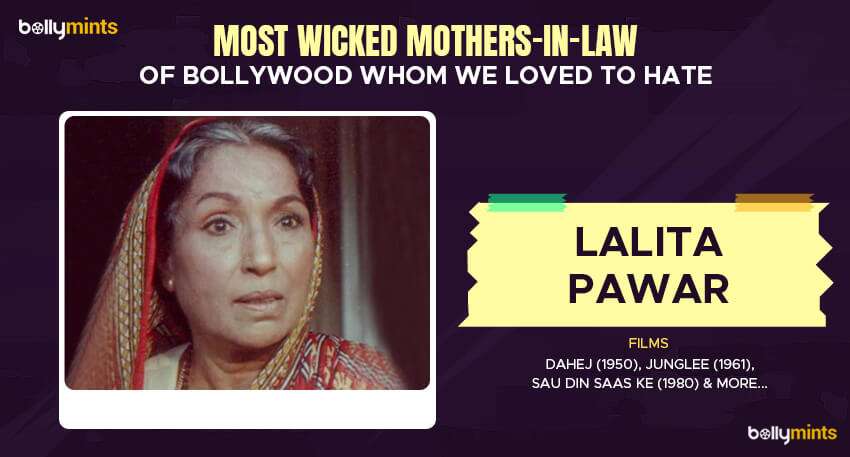 2. Pramila
Pramila also known as Esther Victoria Abraham who reportedly was India's first Miss India to act in films was called the fearless stunt star during her heydays. She not only enthralled the audiences with charm as the leading lady but also starred in about 30 films as a vamp and the ruthless mother-in-law which included Bhikaran (1935), Bijli (1939), Ulti Ganga (1942), Basant (1942), and Doorsi Shaadi (1947). Despite her good looks, she was comfortable playing all kinds of roles which gave her scope to perform. She was the first major woman film producer who made 16 films under her Silver Productions banner.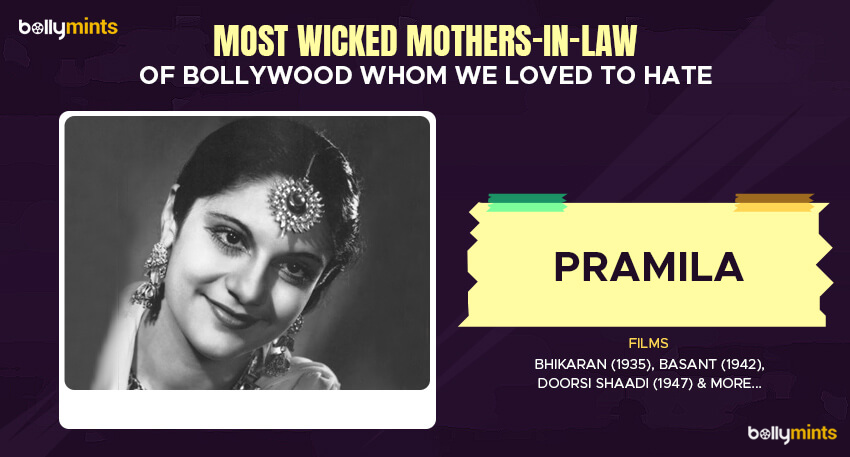 3. Shashikala
Talk about on-screen mothers-in-law in Bollywood and another name that pops up immediately in mind is that of Shashikala who usually played the flighty and feisty bubbly women or vamps with ease. Though she started off her acting career by playing lead roles but as she aged shifted to supporting characters who often plotted the downfall of others. Later in the 80s, she would play the typical step-mother or mother-in-law in films like Sargam (1979), Phir Wahi Raat (1980), Swayamvar (1980), Jyoti (1981), Anokha Bandhan (1982), Souten (1983), etc. She performed in supporting roles in more than 100 films.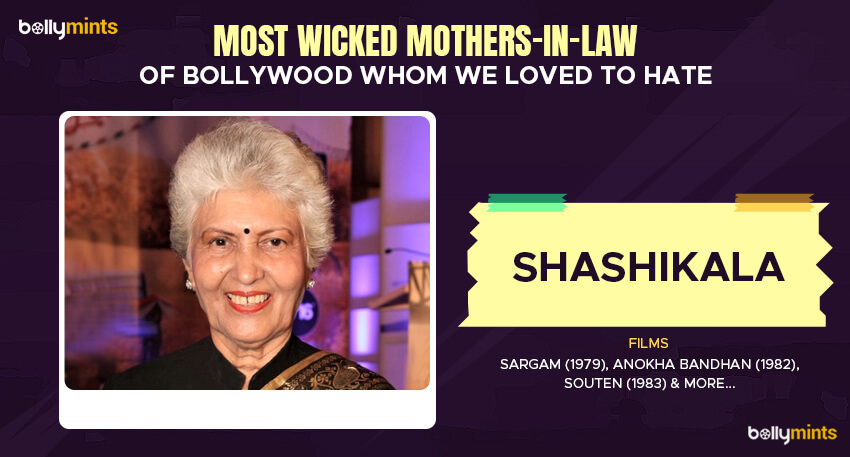 4. Bindu
Bindu has played many famous Bollywood mother-in-law's characters in her entire career. Despite having a similar career graph like Shashikala, Bindu was known for performing a range of roles in her entire career. Be it the young college-going teenager, heroine, sister-in-law, item girl, vamp, step-mother, or the treacherous mother-in-law, she would excel in each and every role given to her. Her portrayal of the perfect moll to the villain as 'Mona Darling' and 'Shabnam' are unforgettable. Not forget her performances as Renu in Ittefaq (1969), Neela in Do Raaste (1969) and Mala in Dastaan 1972. The later part of her career re-established her as the unmerciful and cruel mother-in-law in films like Jwalamukhi (1980), Paisa Yeh Paisa (1985), Hifazat (1987), Biwi Ho To Aisi (1988), Kishen Kanhaiya (1990), Ghar Ho To Aisa (1990), Aasoo Bane Angaarey (1993), Chhoti Bahoo (1994), Banarasi Babu (1997) and others.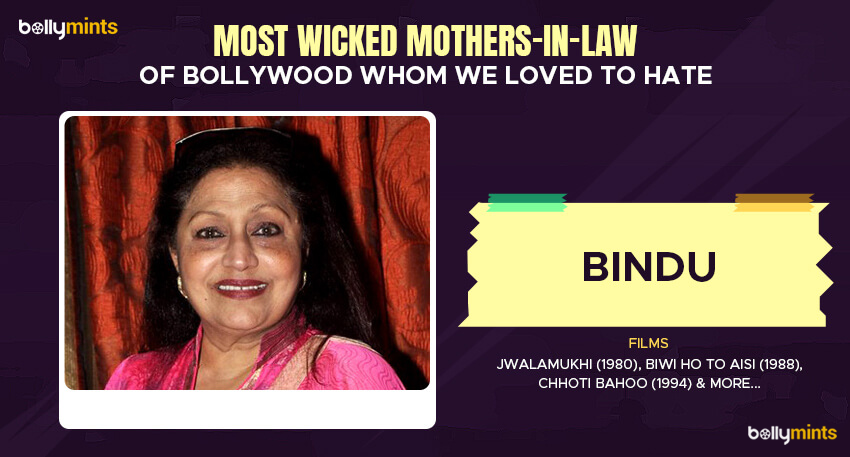 5. Manorama
Another amazing actress whom we often hated to see playing the cynical aunt or the torturing mother or mother-in-law on-screen was Manorama. If at all there would be top 10 bad mother-in-law's roles in Bollywood, Manorama would easily qualify or figure as one of them. Manorama who mostly appeared as the sophisticated and loud lady with a cigarette in one hand and ready to cast an evil spell on the hero or heroine was nothing short of brilliance. She excelled in each and every vamp role that she was given to play despite having a short and stout frame uttering those typical lines…Arre Beti, Itna Rupyon Aur Jaydaad Ka Tu Akeli Kya Karegi…La Mujhe De De..! Some of her memorable roles were in Dus Lakh (1966), Do Kaliyaan (1968), Ek Phool Do Maali (1969), Caravan (1971), Seeta Aur Geeta (1972), Sahib Bahadur (1977) and others.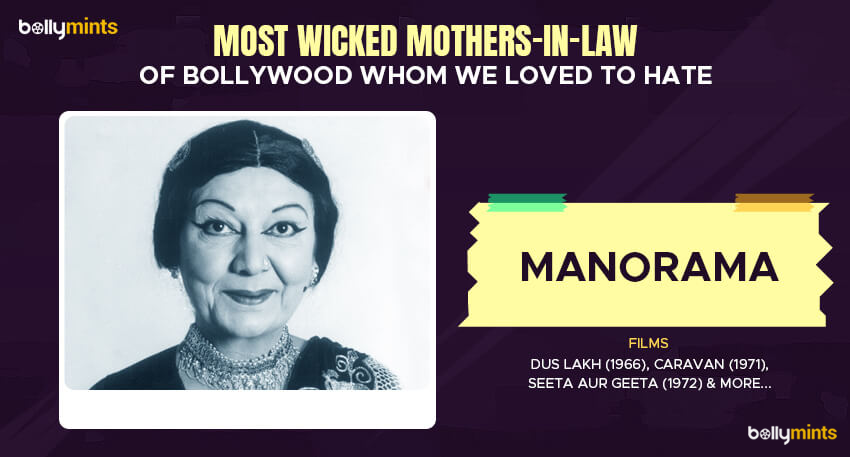 6. Nadira
Nadira, the yesteryear actress who was known for doing all types of roles, be it the spoilt and proud Rajput princess in Mehboob Khan's Aan (1952), the smoking rich socialite named Maya in Raj Kapoor's Shree 420 (1955), the jealous wife in Dil Apna Aur Preet Parai (1960) or the concerned mother Margaret in Julie (1975). Despite leading a secluded life in real she brought to life every character played on screen. Some of her notable negative characters including that of the ruthless mother or mothers-in-law have been in films like Pakeezah (1972), Hanste Zakhm (1973), Ishk Ishk Ishk (1974), Aashiq Hoon Baharon Ka (1977), Amar Akbar Anthony (1977), Mama Bhanja (1977), etc.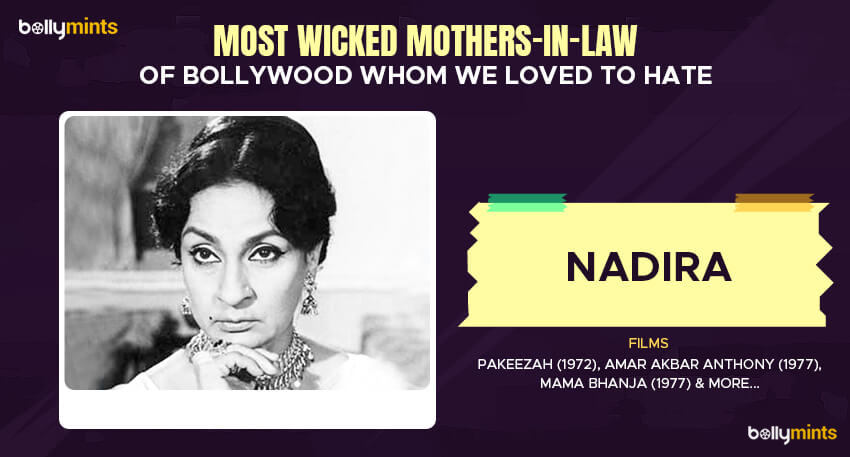 7. Lalita Kumari
Many may not remember the amazing actress Lalita Kumari who was born to play the roles of the inquisitive neighbour, the rich socialite with an attitude, the cruel bhabhi, the strict stepmother and mother-in-law, etc. With wicked and cunning looks and a loudmouth, Lalita Kumari was first-rate in all her roles especially where she played the school/college principal or ladies hostel warden. It was a forgone conclusion that whenever she appeared on screen, she is set to play spoilsport till the end. Some of her memorable treacherous mothers-in-law roles that come to mind are Raftaar (1975), Sankoch (1975), Ghar Ki Laaj (1979), Ek Chitthi Pyar Bhari (1985), Aulad (1987), and others.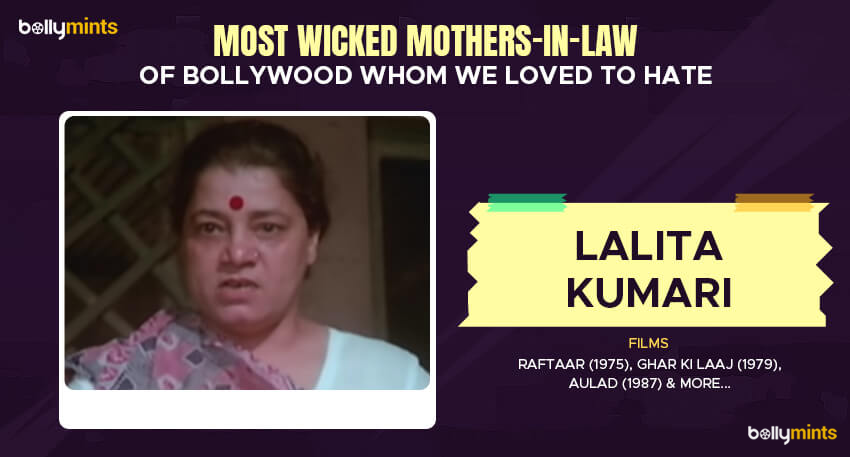 8. Shobha Khote
Often underrated, Shobha Khote too had a similar roller-coaster career like Nadira, Aruna Irani and Shashikala where she started off playing second leads in films like Seema (1955), Paying Guest (1957), Dekh Kabira Roya (1957) and Anari (1959) and later shifted to supporting roles. Her pairing with Mehmood became a hit in films like Chhoti Behan (1959), Sasural (1961), Bharosa (1963), Ziddi (1964), and Love in Tokyo (1966). Later in her career, she started playing the wicked mother as well as mother-in-law in movies like Ek Duuje Ke Liye (1981), Ek Din Bahu Ka (1983), Mohabbat (1985), Pyar Ke Do Pal (1986), Swarag Se Sunder (1986), Saudagar (1991), Pyar Hua Chori Chori (1991), Ek Ladka Ek Ladki (1992), etc.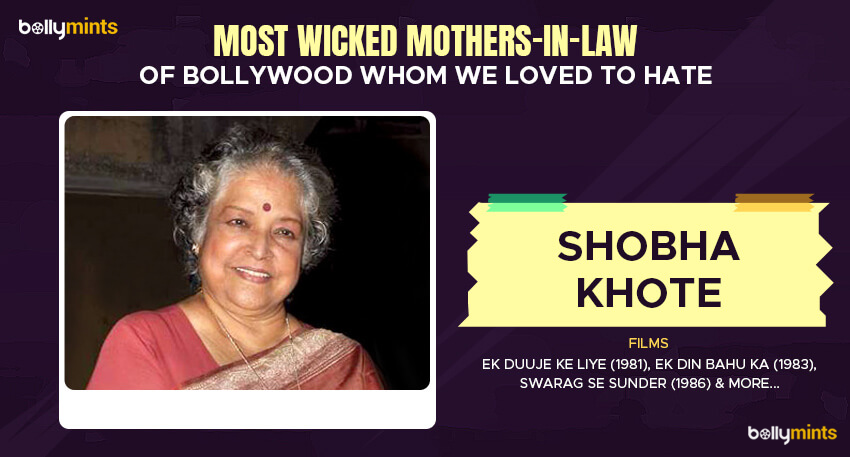 9. Aruna Irani
Yesteryear actress Aruna Irani is one artist who has done a variety of roles in a career spanning over six decades including over 500 films. From child artist to leading lady, from sister to vamp, from item girl to comedienne, from bhabhi to mother, she has done almost all-female roles that anyone can think of. Some of her memorable elderly negative roles that one can immediately recall were in movies like Mawaali (1983), Beti No. 1 (2000), Hameshaa (1997), Chhote Sarkar (1996), etc. but the one superlative evil mother-in-law role that stands out to date was in Indra Kumar's 1992 film Beta starring Anil Kapoor and Madhuri Dixit. Her portrayal of Laxmi Devi in Beta easily might figure in the best top 10 mother-in-law's characters in Bollywood. The way she performed as a stepmother and mother-in-law who eyes her son's wealth was applaud-worthy that gives chills even today. Her award-winning performance in Beta not just made her rub shoulders with Madhuri Dixit but went down as one of Bollywood's most evil mothers-in-law ever witnessed on screen.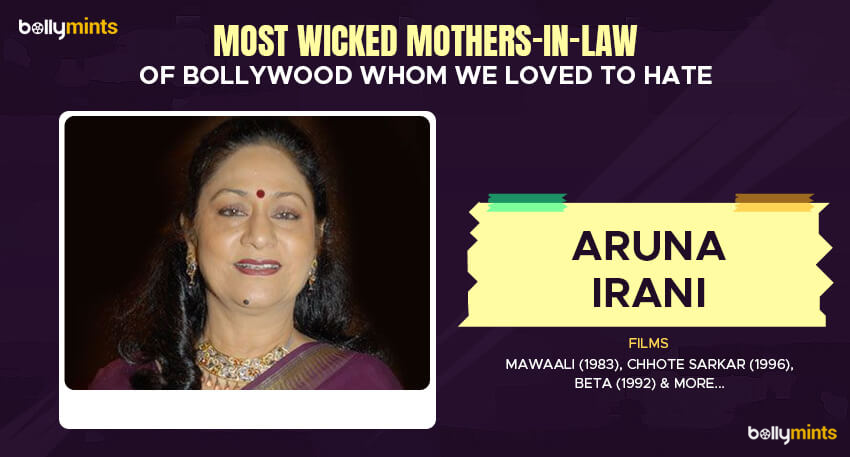 10. Rohini Hattangadi
If one recalls actress Rohini Hattangadi may not have been the quintessential cunning and scheming mother-in-law in Bollywood movies but has done quite a few of them to qualify to this exclusive club. All that comes to mind is her role as Kasturba Gandhi in Richard Attenborough's Gandhi as well as Suhasini Chauhan in the Amitabh Bachchan starrer Agneepath (1990). But she did play the evil mother-in-law in movies like Hero Hiralal (1988), Chaalbaaz (1989), Damini (1993), Akele Hum Akele Tum (1995), Jaanam Samjha Karo (1999), Lajja (2001) and others.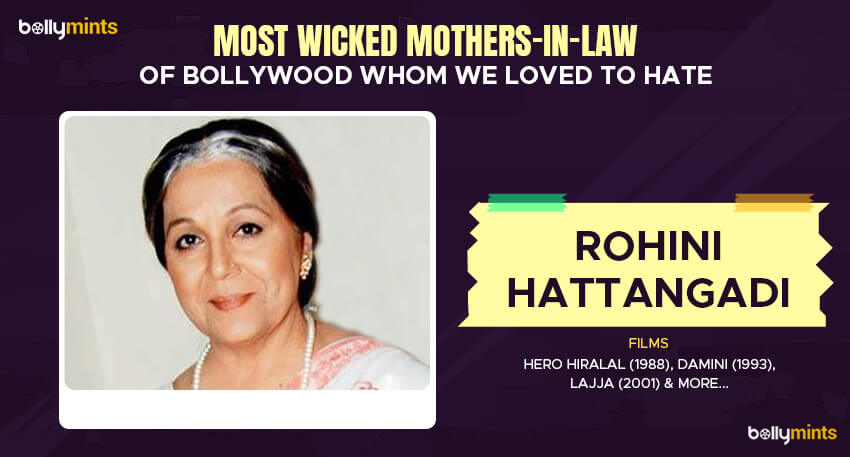 11. Kunickaa Sadanand
Kunickaa Sadanand or simply Kunika who started off her acting career by playing the villain's moll and often got to sing an item song or two before getting eliminated. In her hey days she often played the quintessential vamp on-screen that of an evil bahu who was skimpily dressed and refused to follow the 'Khandaan's Parampara'. It was only in the latter part of her career she started to play the hero's step-mother and gradually graduated to playing the notorious mean-hearted mother-in-law who eyed the property in films like Pyaar Kiya To Darna Kya (1998), Hum Saath-Saath Hain (1999), Dil Ne Phir Yaad Kiya (2001), Suno Sasurjee (2004), Shaadi Karke Phas Gaya Yaar (2006), etc.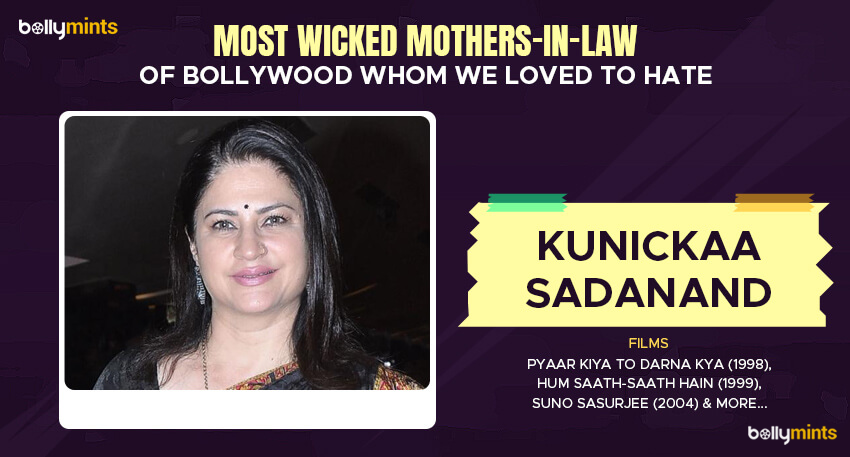 12. Archana Puran Singh
Archana Puran Singh is one such actress who has been underrated ever since she debuted on the big screen in Naseeruddin Shah's Jalwa in 1987. Though she has played the second female lead in many films along with supporting roles she has also played quite a few negative roles including the young stepmother and the villain's moll. Some of her memorable cruel mother-in-law roles have been in films like Aashik Aawara (1993), Raja Hindustani (1996), Masti (2004), Insan (2005), Dolly Ki Doli (2015), and others.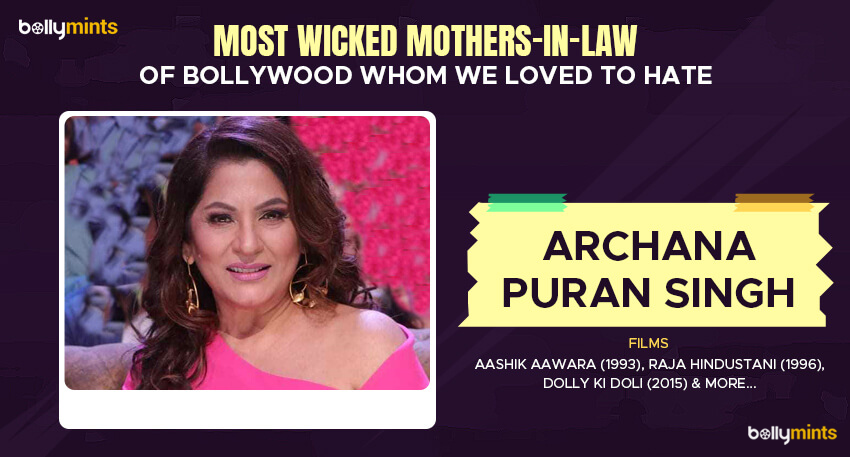 ---